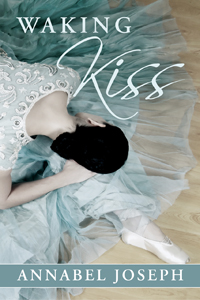 Hi everyone. Sorry I've been sketchy with sharing the snippets lately. I've been SO embroiled in writing this current duet of books, Waking Kiss and Fever Dream. I call it the "City Ballet" series since it's set in the world of ballet, and yes, for once, I'm writing a series so they'll come out one after the other. Both books are very sexy and emotional and I hope everyone loves them.
Today I'm sharing a snippet from Waking Kiss. I'm going to reveal more about the book as the release next month gets closer, but there is definitely a lot of teaching and "sex mentoring" that goes on. I find that incredibly hot. If you do too, you'll love this book.
     "Okay." My fingers slipped from hers to circle her wrist. "That first 'B' in BDSM stands for bondage. Being tied up or restrained is a common kinky fantasy. Do you think you'd like that?"
     "I don't know. I thought the dominant decided everything in BDSM. I didn't think you'd give me so many choices."
     "Does that appeal to you? Not having choices?"
     She shook her head. "No. Yes. I don't know."
     "Let's try it out and see." It only took me a second to grab both her hands and trap them over her head. "Can you get away?"
     She pulled with her arms first. She was strong but she was no match for me. When she couldn't escape my hands she used her body to try to wrench away. Before she started using her legs I cinched them under one of mine. She really started fighting then and while I let her squirm around a little, she couldn't get very far. The more she struggled, the harder I got. "Okay, enough," I said when I reached critical mass. "Be still now."
     She was breathing fast and so was I. I leaned down and kissed her, and she smiled against my lips. "You're strong," she said when we parted.
     "So are you." My eyes were used to the darkness now. My leg was still slung over hers and my erection was about two inches from her hip. I desperately wanted to jab it between her legs but she was jittery as hell and I doubted she'd welcome it yet. This seduction was turning out to be a marathon, not a sprint. I sighed and scooted back from her. "That's physical bondage. Pretty exciting, right? Especially when you're having other things done to you at the same time. There's also mental bondage, which can get even more complex."
     She rubbed her wrists where I'd held them. "Is that like, messing with people's minds?"
     "In a way. It's like saying, I'm going to touch you wherever I want and you're not allowed to move a muscle. Or working your partner into a frenzy but not allowing her to come until you say she can. The only thing that's holding them back is their own willpower. Their desire to submit. To obey."
     She was silent a moment. "That's really intense."
     "Some people play really intensely. Dominant, submissives, masters, slaves, even ponies and toys and fucksluts. You name it. Other people just top and bottom for physical pleasure or adrenaline and call it a day."
     "Like Rubio?"
     "Yes. He's too impulsive and selfish to get into the lifestyle-role stuff. But he's a responsible top. He finds like-minded people and makes sure they enjoy themselves." I shrugged. "Different strokes."
     "You're not like that." It wasn't a question.
     I sighed and rubbed my forehead. "Yes, I'm different. I prefer to engage with my partners on a deeper level."
So, you'll have to wait for the release to see how deep he really goes. 🙂
If you'd like to read a blurb and add the book to your TBR list on Goodreads, just click the cover below and it will take you to the site. At the moment I'm estimating a mid-June release. I'll let everyone know if that changes!