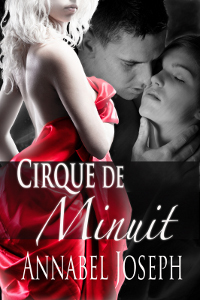 Kink level: Medium to high
It's no easy feat transitioning from the disciplined arena of competitive gymnastics to the artistic whirl of the Cirque du Monde. Kelsey Martin finds secret inspiration in Theo Zamora, a dark, taciturn trapezist–until his partner dies in a tragic accident and he decides to leave the circus for good.
Theo doesn't understand why Kelsey reaches out to him, only that she compels him with her unique combination of innocence and recklessness. Before long the two are collaborating on an aerial silks act for a new production, the Cirque de Minuit. Theo's impatience with Kelsey's naivete is matched only by his passion for her, and the two soon become embroiled in a tempestuous, consuming romance.
But some still blame Theo for his partner's accident, and danger wraps up the two performers as inevitably as the scarlet silk of their act. Theo and Kelsey must find a way to connect and trust one another as he leads her deeper and deeper into a dangerous world of control and desire.
This erotic romance novel is approximately 70K words and contains sexual content, graphic language, and situations that some readers may find objectionable: Anal play/intercourse, m/f/m menage, BDSM scenes, power exchange themes, and swinging/partner sharing.
Ebook vailable at Amazon, Barnes and Noble, All Romance Ebooks, and Smashwords.
Paperback available at Createspace and Amazon.
Annabel Joseph interviews Kelsey Martin of Cirque de Minuit: Funny interview here at The Forbidden Bookshelf!
Cirque Du Minuit, reviewed by Dark Diva Reviews
Five stars and a recommended read! (click to visit the site)
Annabel Joseph's Cirque de Minuit is a must read book. Outstanding writing, tremendously engaging plot, characters that bounce off the page and into reality; it has it all and then some.
Theo is a fascinating hero—most certainly un-hero-like at first. I wasn't sure what to make of him or Kelsey's fascination with him. The intensity of interaction, the emotional dynamics of both main characters and the setting make Cirque de Minuit a delight to the senses. One intriguing part to me was that, seemingly with the tiniest brushstrokes to the dialogue and surround scene, Theo actually sounds French. It appears to be without effort that Ms. Joseph has written this character in a way that if feels as if I can hear Theo speak with his accent. These slight touches make the overall effect one of perfection here. The secondary characters play a big role in moving this story forward as well. I would certainly love to revisit this world again with another story.
Cirque de Minuit is incredibly intense at times, but the resolution is so much better for this intensity. Not one single BDSM scene (or any other scene for that matter) feels gratuitous or staged. It's all necessary to draw this story to its fabulous conclusion.
Cirque de Minuit receives a 5-star review at The Forbidden Bookshelf!
(Click to visit website)
"CIRQUE DE MINUIT was amazing. Annabel Joseph has such a unique and passionate voice in the BDSM romance genre, and her latest novel about performers in a French circus is a perfect example. The story was beautifully written with strong, complex characters, rich descriptions of circus life behind the curtain, and some incredibly hot and kinky scenes. When I think of the circus, BDSM doesn't exactly come to mind, but Annabel Joseph made it work flawlessly.
The relationship between Kelsey and Theo was intense. Kelsey has spent a lifetime as the sensible good girl type. In many ways she is naive and innocent, yet also strong, stubborn and not afraid to speak her mind. Theo is dark and dangerous, a tortured hero for sure. They come together in the wake of tragedy and form a complicated bond.
As partners in a new aerial silks act for Cirque du Minuit, they go from teacher and student to master and slave. Theo introduces Kelsey to the world of BDSM, which includes visits to the Citadel, a fetish club for the circus' performers. Kelsey is my favorite type of submissive. She's fiesty and strong. She truly wants to submit, but is far from perfect. She takes her training in stride (and it was some deliciously wicked training). Theo made an irrestible dominant. There was so much more to him than he wanted others to know. He was commanding and intimidating, yet inside he had a vulnerable streak that made him very human.
CIRQUE DE MINUIT was a breathtaking story, and I was quickly pulled into its seductive world. I would be thrilled if this was made into a series. I have a feeling there are many more stories to be told. I would highly recommend Kelsey and Theo's love story to fans of BDSM erotic romance."
Cirque de Minuit receives a 10-points-out-of-ten review at BDSM Book Reviews!
(Click here to visit the site)
"Annabel Joseph writes complexity in a way you don't often see in BDSM flavored erotica. In Cirque de Minuit there is complexity of emotions, plot, performing arts politics, and basic human nature. There was even a plot I didn't realize was there until it slapped me upside the head about ninety percent of the way through.
BDSM elements:
•Bondage and Discipline: There are a few bondage activities, but it's not a huge part of their play. However, the discipline most certainly is, enough I'll give this category a 3 of 3.
•Dominance and Submission: Mmmmm. 3 of 3.
•Sadism and Masochism: Again, a 3 of 3. It's beautifully written, with the perfect note given to show how painful ecstasy can work when done right.
•Extra Point: Oh, yes.
As for the writing elements: The plot was woven together beautifully, tying various aspects together in unexpected ways. Pacing was mostly okay, with a few snags (for me) based around the main antagonist. Prose and dialogue were beautiful – no one quite captures the emotions in an intense BDSM scene the way Annabel Joseph can. Character development was exceptionally well done, as was the world-building showing the almost closed system you get in some of the performing arts social structures.
One final note — submissive does not equal doormat. If you've any doubt about that, read this book.
I can easily give Cirque de Minuit a 10 of 10. Great story, great characters, and off-the-charts sex."