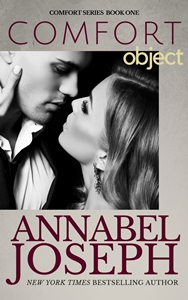 Comfort Series – Book 1
Kink Level – Intense
Nell, an out-of-work professional submissive, is desperate to find a job when she meets handsome film star Jeremy Gray at the restaurant where she works. He says he needs a personal assistant, but the work contract he shows her details not organizational duties, but sexual ones. Jobless and homeless, Nell agrees to work for him anyway, on the promise that he will pay for her to finish her college degree when her stint as his "assistant" is complete.
The start of their formal Dom/sub relationship is rocky, but they soon fall into a mutually satisfying, highly sexual routine. They play vanilla boyfriend and girlfriend in public, while Jeremy uses Nell as his kinky comfort object behind the scenes. Then a stalker threatens their secret lifestyle, and their contract may not be strong enough to hold them together.
This book contains explicit sexual content, graphic language, and situations that some readers may find objectionable: Anal play/intercourse, strong BDSM theme and content (including/not limited to spanking), dubious consent, exhibitionism, ménage (m/f/m), moresome
Annabel interviews Jeremy Gray from Comfort Object as part of KEA's Kinky Kiss and Tell promo: Jeremy Gray interview
Comfort Object, reviewed by The Romance Reviews. Five stars!
"One of my favorite erotic books of the year- This book took me by storm!
If you look for a theme in my reviews, you will recognize I am all about well developed, interesting characters and Comfort Object has that in spades. Jeremy is dark and jaded by his Hollywood experiences. He is used to buying himself some modicum of happiness, all the while steeling his heart for the inevitable disappointment that invariably rules his so called 'picture perfect life'. An innate Dominant, he uses his BDSM lifestyle as a release for the pressure his high profile life puts on him. As a new movie begins to film, Jeremy sends his assistant, Kyle, out once again to find the perfect sub to help him through filming. Kyle discovers Nell working as a professional submissive at an LA BDSM club. Through some cleverly written twists and turns, Jeremy ends up offering Nell a professional contract for her services.
Nell finds Jeremy overbearing and manipulative, but he just might hold the key to achieving her biggest dream, financing a college degree. She never imagines that he holds the key to her inner sub's unmet needs.
I enjoyed unwrapping both characters as I turned the page. Jeremy is a raw, hard dominant clearly experienced in the lifestyle and reading subs. To the outsider he may seem on the abusive side, as if he is only meeting his own selfish needs, but if you really pay attention, he is pushing Nell just as all subs craved to be pushed. She has a safe word and she chooses not to use it because she needs the extra edge. For the first time in her life she finds her barriers falling down. I love to watch barriers fall down! The book is definitely hawt and sexy filled with a kaleidoscope of sexual encounters (can you say yummy ménage?), but in comparison to other BDSM stories I am going to say the level of darkness sits on the medium side. It wasn't terribly uncomfortable to read, but I flinched more than once for Nell and found myself unconsciously rubbing my backside.
The pacing was quick and the tension perfectly thick. As the war within me raged between wanting Nell to leave his jerky butt and stay and heal them both, a side stalker storyline kept me further on edge. Nothing like a crazed wacko with no use for safe words to build suspense.
I finished the book with a clear sense of satisfaction and went straight to my Kindle home page and downloaded everything Annabel Joseph has written. I just love discovering a new author who lights my fire. Enjoy!"
Comfort Object, reviewed by Lea of Blackraven's Reviews
A Blackraven's Reviews Recommended Read!
"Annabel Joseph has once again written an amazingly intense and exhilarating novel. Powerful in presenting the lives of adults living a life imbued in varying levels of BDSM and rich in emotion and drama, Comfort Object is sure to become a favorite read for those who enjoy a book of great depth and substance.
Nell is the heroine of Comfort Object. Nell leads her life in straightforward acceptance of who she is. She knows what she needs in her life to feel fulfilled sexually, but it is the balance of the sexual and emotional needs that creates angst for Nell. I was pleased to see a BDSM heroine presented as well educated and intelligent. The books and stories Nell shares with Jeremy support the plot in a beautiful way and add another layer of enjoyment to this work.
Jeremy is a movie star and a Dom. He needs a woman who will be submissive sexually when they are alone together and appear vanilla to the public. Kyle and Jeremy manipulate Nell's life to pressure her into taking the position. Jeremy is hard on himself because he feels responsible for things beyond his control and, while the rest of the world may see him as desirable and perfect, his self-image is one of perversion. His life is dangerously unbalanced and he can't seem to grasp what or who it is who has the power to save him.
There are no superfluous characters in this book. Martin, the attorney, Kyle, Jeremy's personal assistant, and the crazy stalker all play an important role in the development of the plot in Comfort Object.
Just as I don't understand why a person well aware they don't enjoy westerns would read a cowboy story and then complain that the characters ride horses, I am confused by those who would pick up a book clearly labeled as having BDSM elements and complain about the BDSM scenes in the story. Please understand that there are medium and a few strong BDSM scenes in Comfort Object. If that does not appeal to you just step away from the book. There are many of us who do enjoy it.
In summary, if you are not comfortable reading about BDSM situations, this is not the right book for you. However, if you enjoy a passionate book with a mature and sexy couple comfortable with their sexual needs, and if you are looking for a book with a plot and characters that will stick with you for a very long time, Comfort Object is the very next book you should read."
Comfort Object, reviewed by Dark Diva Reviews
Jae gives Comfort Object 5 Delightful Divas!
"I've had a really difficult time trying to figure out what I want to say in this review. You can see from the rating that I thought this book was excellent. Every Annabel Joseph's book I have read has been so well-written and engaging.
The character development is outstanding. I can see some readers would think Nell is a weak heroine with regard to some of her choices, but they aren't really looking at her. They are looking at themselves and imagining what they'd do in a similar situation. She makes different choices than what most people…or at least most women…would likely make, but those choices are based upon her belief system and require a strength of conviction that most of us wouldn't choose to have.
The only reason I mention this is because this is a very intelligently written book, as are all Annabel Joseph books that I've had the privilege of reading. Look past that first layer for more than a surface plot that you get in many erotic romances today.
Every word adds layers to the characters. There are no superfluous words. Everything means something and will take you deeper into the lives of these characters.
The sex and BDSM scenes are outrageously hot and you'll feel as if you're in the room with these characters. The BDSM in this story is meant for readers of BDSM books. It's most likely not a good starter book…or anywhere close to that really. What it is, though, is clever and fresh.
I highly recommend this story to readers of BDSM that enjoy reading intelligent works of art, because that's what this is. It's a tale woven with meaning from beginning to end and I, for one, enjoyed it immensely."
Comfort Object, reviewed by Zelda Gillian of Zelda's Bookshelf
"I loved Nell's story. She's smart and kinky and on an unfortunate psychological roller coaster with Jeremy Gray. This is a great tale of forced submission that blurs the boundary of mutual consent. While Nell enters into a contract to work for Jeremy, she is doing so under duress. He's taken away everything that she's worked for — her job, professional marketability and her apartment. She has nowhere to turn but to the open hand in front of her, which just happens to belong to Jeremy. She signs Jeremy's contract with full knowledge that she's signing away her freedom.
This book appeals to the fantasy of pseudo-consensual sexual coercion and moral ambiguity. Jeremy forces Nell's submission, but Nell is a professional submissive before Jeremy even comes into the picture. She is willingly employed and paid to submit to clients within the boundaries and restrictions of the BDSM club she works at, Eden. On paper, contracting with Jeremy is just an extended and more extreme form of her contract with Eden. In reality, Nell is strong-armed into the contract through Jeremy's emotional and financial manipulation, and his actions begin to change Nell's submissive proclivities from a professional endeavor into a lifestyle choice. Nell is on a twisted ride through Jeremy's life — jumping from city to city, hotel room to hotel room, with no one to confide in and no one to comfort her aside from her dominating new boss and his wily sidekick. She is essentially lost in the world, isolated from home and completely at the mercy of Jeremy and his contract.
Jeremy is both physically and emotionally merciless. Morality aside, this book is packed full of really hot scenes, although not for the faint of heart or BDSM-averse reader. Jeremy pushes Nell beyond her limits on more than one occasion, and he's creative as hell in his techniques. He beats her, tortures her, isolates her and fucks with her mind, yet provides her seemingly endless sexual pleasure and makes her beg for more — all ingredients for a happy submissive. Nell provides Jeremy a better understanding of his own nature and humanity, a warm, consistent body to return home to and talk to, a blank slate (er, body) upon which to act out his own whims and, above all, hope — hope for love, hope for a future and hope for understanding. Lo and behold, tenderness grows between them out of their mutual understanding of each other's needs and desires and blooms into a sweet and sexy interdependence that surprises them both, something that they eventually find they cannot live without.
The emotional complexity and eroticism of Annabel Joseph's writing is really enjoyable. Comfort Object is a great read and I can't wait to pick up more of her books."
Comfort Object, reviewed by Diana/Book of Secrets
"Comfort Object is easily in my top five favorite erotica books I've read this year – the story, the characters and the sex are all amazing. Nell and Jeremy are engrossing characters. The story is told in first-person, and I love how the point of view alternates between Nell and Jeremy. Jeremy is despicable at first when he has Nell fired and evicted so she'd be desperate enough to accept his offer. Can you imagine someone wanting you so much? Sure, he has a mean streak, but he's never overly cruel to Nell, though he does push her limits. He's a hard Dominate that knows what he's doing and expects total submission from Nell. And why not? She is being well paid to play the part. Certainly there is a reason he has built up such intimacy walls to where he must hire someone for his pleasure. Watching him change from emotionally distant to being genuinely in love with Nell was intense because he fought it every step of the way. I think Nell realizes much sooner that they compliment each other and being together is worth any risk.
Comfort Object is a gripping story that moved quickly and held my interest from start to finish. I was glued to this book mainly because of Nell and Jeremy's complex relationship, but the plot involving a crazed fan stalking Nell was also exciting. I'd probably label the BDSM sex scenes in this book as medium intensity – not light, fluffy stuff, but nothing degrading or offensive either, at least to me. However, everyone see things differently. If you're sensitive about spanking, bondage, group sex, etc., then this book would not be for you. My biggest complaint is the overuse of the terms "slut" and "whore," which I don't like. That's a pet-peeve of mine, and other readers may not be bothered by it or may not even notice. Jeremy may be hard to take at first, but give him time and he'll win you over. This is the first book I've read by Annabel Joseph, and I'm very excited to read more. Though not for the faint of heart, this is a fantastic book I would highly recommend."
Comfort Object, reviewed by Bella of Fallen Angels Reviews
"Having read other BDSM-themed books by Annabel Joseph, I thought I was prepared for Comfort Object. I wasn't. This story starts off with a bang and doesn't let up until the words "The End". Much of my time was spent crying for Nell, as she touched my heart on a very deep level. Estranged from her family, fired from her job unjustly, evicted from her home due to some serious manipulation, she just couldn't catch a break. This was a woman who at first really didn't seem in charge of her own destiny.
At first, I'll admit to not liking Jeremy. He manipulated situations almost narcissistically, all the while bemoaning his situation as a Hollywood actor. It was almost incongruous. Or perhaps he was resigned to the annoyances that come with being a star and used that status to his advantage. Throughout the story, he was a bit moody and sometimes even petulant. Perhaps it was his kink, but he called Nell names often to the point of humiliation. It would have been more understanding had it being during a "scene" but he acted this way whenever she showed any fire or emotion. It was almost enough to make me want to strangle him. Almost.
His saving grace was, interestingly enough, the narrative. Some of the chapters were narrated by her and others were by him. Seeing inside his head tempered my anger with desire. It was then that I was able to glimpse his vulnerability and fear of being hurt. This altered my perception of him from demon to human.
The chemistry between Nell and Jeremy was off the charts scorching. When these two came together (and with Jeremy's robust libido, it seemed like every half hour!), it was nothing short of explosive. The addition of secondary characters Jess and Kyle made for some seriously spicy repartee and sexual interactions, and the secondary plot of a vicious stalker was enough to keep the story at a roller coaster pace. Having delved so deeply into these two characters, I was heartily disappointed when my nose left the book at the end of the story to realize I'd come back to reality. Bravo, Ms. Joseph! I look forward to your next writing endeavor."
Comfort Object, reviewed by The Romance Studio
"WOW what a great read! The writer did a wonderful job writing this story. It will get your sexual juices flowing, stir your emotions, and invoke your curiosity about the characters' motives and actions. I think novels are voyeuristic in nature and this story provides a peep hole into the BDSM world. Nell and Jeremy are very strong characters. The suspense in this story really made the storyline stand out. It took me some time reading before I fully understood the title and by the end I had gained a better insight into its meaning. I enjoyed how the characters interacted. There was a beginning, middle and end to this story with both characters providing their views or speaking on how they viewed the relationship. This approach was insightful for anyone not involved in this lifestyle. The sexual interaction was creative, passionate, and powerful and at times pushed the lines of consent. There was no guessing the next move the characters would make or how the story would end. The suspense and intensity held on to the very end. I look forward to enjoying many more stories by Annabel Joseph. This story is not for the faint at heart it includes strong BDSM content."