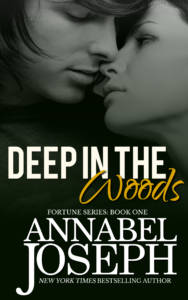 Fortune Series – Book 1
Kink level: Medium
Sophie finally finds the courage to reenter the Atlanta BDSM scene after extricating herself from an abusive relationship. At a local munch, she meets Dave, a funny, laid-back erotic photographer. When she sees him again later at a dungeon, Sophie is surprised by her strong attraction, and nervous about starting a new relationship, but Dave eases her fears. They embark on a sexy, thrilling D/s relationship and Sophie finds healing and fulfillment in Dave's arms.
But Sophie is still haunted by nightmares of her past. On a dark night in the woods with Dave and his friend Ryan, frightening memories overtake her. She knows that in order to move on, she must uncover the tragedy that haunts her subconscious.
Sophie's quest for answers brings her face-to-face with her previous tormentor. She finds herself once more in the deep woods, not only fighting for answers…but also for her life.
Reader Advisory: Contains m/f/m ménage scenes and brief but graphic violence.
Deep in the Woods, reviewed by Victoria of TwoLips Reviews
A five-kisses review and a Recommended Read!

"If you are a connoisseur of the BDSM genre, run to get Annabel Joseph's Deep into the Woods immediately. Sophie was in an extremely sadistic BDSM relationship which left her broken, both physically and mentally. She's been to more therapeutic sessions than she would like to admit to, which has made her realize she needs kink – extreme kink – in order to attain her full potential as a human being. Fueled with this startling self-realization, she attends the local munch in the longing hope she will find a man worthy of her undying love and devotion. While there, she is just as mesmerized with Dave as he is with her, but at that point, she caqnnot commit to anything.
Dave ses that Sophie is skittish, but he doesn't even know half of what she's gone through. Yet, he is determined to make this elusive creature his. What a wonderfully sadistic, kinky, humorous, and kind-hearted Dom Dave is! He's perfect for Sophie. Dave is comfortable enough in his own sexuality to know what he wants in a submissive and the very subtle boundaries of sadism. The scenes between them threatened to blow up my ereader with their intensity! When Dave invites his friend Ryan over for the holiday, these two determined Doms put Sophie through her paces in a truly creative D/s scenario guaranteed to make your panties melt.
Rarely do I have the privilege to read and review such a talented author like Annabel Joseph. Ms. Joseph really understands the nature behind BDSM, creating two characters in this book who are meant for each another. With Dave, Sophie is able to come to terms with her horrifying past, learning sadistic boundaries through his highly inventive imagination and capable hands. Dave gets everything he ever wanted in his beloved submissive Sophie.
Deep in the Woods is a rare BDSM masterpiece which now holds a coveted spot in my ereader and hopefully, when it comes out in print, will be chained to my bookshelf. I'm now waiting in anticipation to read Ryan's story, because this hunky dominant deserves his own happy-ever-after as well."
Deep in the Woods, a Blackraven's Erotic Cafe Recommended Read
Lea gives Deep in the Woods five Ravens! (click)
"Deep in the Woods is an excellent book. It is, at its core, a love story with depth and devotion, elevated by the healing power of love. I appreciate that Annabel Joseph stresses the importance of safety in a BDSM relationship, as in any other relationship. The storyline emphasizes that sharing power in a Dominant/submissive relationship does not mean leaving common sense and safe words to the wayside.
Sophie, the main character, has been abused physically and mentally at the hands of a vicious man using the façade of being a Dom when in truth he is an outrageously cruel and predatory male. The scars that cover Sophie's body are nothing compared to those left on her spirit. After many months of therapy Sophie meets Dave, a Dominant in the true sense of the word, and bit by bit they begin a healthy and loving relationship.
Annabel Joseph gives us an unusual heroine in Sophie. Initially wounded and rather helpless, Sophie becomes a heroine as she faces her personal demons, fears and insecurities. With Dave at her side, Sophie has the courage to be honest with herself about what she needs to be happy in a relationship and she makes a conscious decision to do more than just survive, she wants to truly live again. To me, that makes her not only a heroine but a role-model, too.
Dave is a wonderful character. He displays a level of patience and understanding with Sophie that is loving and heartwarming. Gently and carefully he discovers who she is and what she needs. Dave is secure enough to encourage Sophie to continuing counseling and to encourage her to pursue her own dreams for her future. And, as much as he loves her, he would rather let her go than cause her any additional mental anguish.
Deep in the Woods is captivating. I was so enthralled with the characters and action that I had to read it from start to finish without stopping. I had to know the rest of the story about Dave and Sophie. The ending of this book is not simply an HEA, it is an outstanding HEA that will leave you with a smile and a sigh.
Anyone who enjoys reading about BDSM will be pleased with this book. For those considering entering the scene, this seems as though it should be on the required reading list to reinforce the idea of personal responsibility for safety, as well as to reinforce the joys of connecting with the right Dom.
Enjoy."
Deep in the Woods, reviewed by Whipped Cream
Voted Book of the Week!

"This story was a very intense read full of emotion and depth. From the first time Dave sees Sophie he knows that he must meet her, but Sophie is just coming off of an abusive relationship and is very wary about men. As Dave and Sophie begin a tentative relationship the reader is treated to an interesting read. The love that the two feel for each other shines right off of the pages.
Sophie is a strong woman. She endures many hardships and even though she is still working through some things, she still strives for happiness. Dave is a smart and honest man who loves with all his heart. He is a Dom and loves to play hard but he always watches his subs and makes sure that they are safe. As Dave and Sophie play he is always watching and aware of her reactions and emotions, making him the good Dom that he is. I enjoyed reading about the deep connection that Dave and Sophie had, it was a wonderful read. It was also nice to see Sophie going to a therapist throughout this book showing the reader that one can get through abuse and continue to get better. The author takes a serious look at what happens to people who are abused and what happens after.
Annabel Joseph does a wonderful job of bringing the reader into her world and keeping them entertained all the way through to the end. Add in the over-protectiveness of Dave's dog Cerberus, whom I loved and you have a great read that should not be missed. My only comment would be that readers should be aware that this story contains some very strong BDSM play that may be a bit much for some. However, I enjoyed this book and will be sure to watch for new work from this author."
Deep in the Woods, reviewed by Literary Nymphs Reviews Only
A Five-Nymph review!
"Keep ice and tissues on hand as you read Deep InThe Woods. The author takes you on an emotional rollercoaster in this book. She captures both Sophie's and Dave's emotions and fears very realistically. The terror that Sophie has from her nightmares will take us back to childhood and our own nightmares and the feelings we had.
The relationship between the two is very dynamic and reminds us of the daily relationships we have with our loved ones. The main reason for Sophie's nightmares caught me by surprise, as I would never have guessed this. The story could be any one of yours.
There is one ménage scene in this story when Sophie and Dave are joined by his best friend. This does nothing to detract from the story and in some ways helps with the resolution of the story, but makes me want to know more about Ryan. Though some of the storyline made me a little uncomfortable, I will be reading this one again."
Deep in the Woods receives a 5-Diva review from Jae at Dark Diva Reviews! (click)
"What an outstanding story! That's really my review…if you want the short and sweet of it. From page one Deep in the Wood compels you to turn each page to find out what happens next. There are so many underlying plot points and the information is drizzled to the readers throughout the tale, keeping the suspense level very high at times.
The love and understanding between our main characters was very nice to see. I enjoyed the fact that the story wasn't based upon a miscommunication between main characters but around various other factors. And, let me tell you, when Annabel Joseph writes a bad guy, he is very, very bad. I don't usually use texting lingo in my reviews but honestly, the bad guy in this tale deserves a big old OMG.  I was truly distressed by his character and I think the reason for that is Ms. Joseph's stellar character development. If she hadn't made me feel a part of Sophie's life, I'm not sure the rest would have fallen in place. While I didn't always agree with Sophie's outlook or thoughts, I was right there with her. I could see why *she* felt that way, and that's the important part. I could become involved in her journey.
Deep in the Woods is not a light BDSM tale, so if the harsher playing and realities bother you, this might not be the book for you. But it's a rock solid tale of fate, love and emotional growth, and if BDSM is something you enjoy reading about then Deep in the Woods should be on your list of 'to read' titles."
Deep in the Woods, reviewed by Siren Book Reviews
A Five Siren-Stone Review!
"Deep In The Woods is a great psychological power trip that you won't want to miss! Annabel Joseph did a fantastic job of giving us a peek into the BDSM world. The author shows us the dominant/submissive lifestyle, and what happens with a good and bad dominant in charge. This story is a great example of how the smallest of choices in our lives can have an enormous impact later.
Sophie finds the strength to leave a very bad dominant/submissive relationship. Unfortunately, the relationship leaves her scarred in more ways than one. She doesn't think she's ready for a new relationship, until Dave comes along at just the right time. However, even her loving Dave can't heal her mind.
Dave can show her what it is to have a healthy dominant/submissive relationship with love. Not only is there a great relationship going on between the two, but we also get to experience their ménage a trios with Ryan. Ryan, Dave's best friend, just helps to reinforce Sophie's confidence that she can surrender and feel safe with the right dominant.
Sophie has an emotionally moving and dark secret, kept hidden even from herself. Sophie's secret is obviously extremely upsetting, as evidenced by the nightmares, but Annabel Joseph hides it well until she wants it revealed. The plot twists and turns will keep you guessing and reading."
Deep in the Woods, reviewed by Happily Ever After Reviews
Wendy gives Deep in the Woods Five tea cups!
Deep in the Woods was an awesome read! Annabel Joseph brought Sophie and Dave together beautifully.
Dave wasn't looking for a submissive permanently, but he couldn't resist helping Sophie when he saw her at the club. He wanted to show her that he was a Dom who could be trusted, and wanted to teach her that pain could bring happiness, that the right pain could bring her to a subspace that would have her withering in ecstasy. He taught her to go for what she wanted and not be afraid. He was her champion.
Sophie wasn't sure if she was ready to move on after the disaster of her first relationship in the BDSM world, until she met a Dom who understood her better than she understood herself. Dave understood her worries, he understood her standoffish ways and he was there when the nightmare was over. He made her see that a submissive had the control to give it up to the right master. Through hell Sophie found paradise with Dave and their relationship was a true test of love.
Sophie came to trust and love Dave enough to follow his instructions that took her spiraling through orgasm after orgasm. Through perseverance, Dave brought Sophie to her potential of a submissive that he truly loved and cherished. He gave her the strength to fight her memories and come out of it with love and a commitment.
Annabel Joseph definitely captures your attention with this story and I rate it 5 Tea Cups and a definite 3 heat index.
Deep in the Woods–A Fallen Angels Reviews Recommended Read!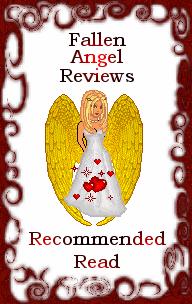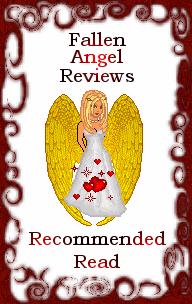 "When Dave went to his first munch in Atlanta, he never expected to meet a woman who allures him so completely. Sophie has just reemerged from a bad D/s relationship and has shown up at the munch as well. Many of the Doms and subs in attendance believe that her misfortunes were her own fault, but Dave still wants to know more.
Later he meets her at a BDSM club, and while many past memories continue to plague her, she begins a new relationship with this gentle, loving sadist. She's plagued by nightmares and seeing a therapist doesn't seem to resolve the past. Events are locked into the recesses of her mind, events that if unlocked may be detrimental to her very life. Sophie returns to the woods time and time again in hopes of remembering before it's too late.
Deep in the Woods is a deliciously dark, incredibly intense story. Sophie is an amazing heroine to root for. She's got grace, intelligent and beauty, and has suffered through a horrid relationship with an abusive guy, an experience that no one should have to endure. Even in the midst of her healing, she's able to love again and takes Dave as her newest love. Dave is wonderfully sane, yet at the same time wickedly dominant in his mastery over Sophie. He's intuitive enough to know when to punish and when to let a word or behavior slide, when to be forceful and when to be loving. There are many out there who wouldn't remain with someone so bruised and battered as they heal from their past. Because Dave does, this makes him all the more attractive. The dynamic between this couple is electrifying, their sex and play scenes mouthwatering. Combined with the suspense from Sophie's past and the delicious play with Dave's best friend, Deep in the Woods is rip roaring roller coaster read and a sure success. Brava to Annabel Joseph for an amazing read."