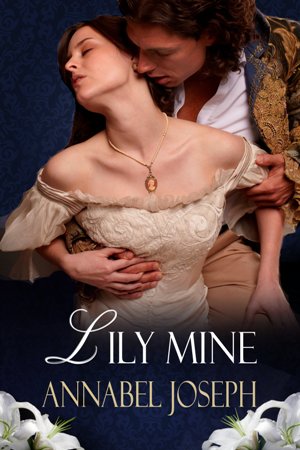 Kink level: Mild
When Lily wends her way down the country lane to Lilyvale Manor, she hopes the coincidence of names bodes well, for she is in dire straits. She's been disowned by her London family and finds herself desperately in need of a job.
Lord Ashbourne is equally at ends, his fiancée having jilted him for a commoner and run off to the Continent. Her powerful society family is determined to delay the breaking scandal in order to save the younger sister's prospects. When a servant leads Lily to his parlor, James is astonished to discover how closely she resembles the missing lady of the manor.
He hatches a plan, convincing Lily to play his absent "wife" to keep the gossips at bay. He reassures her it will be in name only, but soon enough, playacting turns to real attraction, and friendship to aching, mounting desire. The strictures of society and unforeseen tragedy combine to test the pair's forbidden love, even as they are driven ever closer into one another's arms…
This novel contains spanking, light bondage, and light BDSM elements.
Available at AllRomanceEbooks.com, Smashwords.com, Amazon.com , and Barnes and Noble.com.
Lily Mine, reviewed by Jae of Dark Diva Reviews
Rated Five Delightful Divas!
"As anyone reading my reviews probably knows, I'm a huge fan of Annabel Joseph's writing. I have to admit that I was still worried I might not like this one. I rarely read historical novels…sometimes yes, but not for the most part. I just never seem to be able to get into them the way I can a contemporary novel. But I couldn't resist giving it a try. Now, I'm not the best person to say if it was historically accurate or followed the rules of society at the time; however, I can say that I was brought into the story completely and engaged throughout. It was as if I could watch these historical events unfold. The scenes were vibrantly written. I could see their clothing, furniture and surroundings, yet never felt as if I had to drudge through narrative to gain this information.
The characters were rich and diverse, with drives and motives so different from today. I truly enjoyed this snapshot of life that I was given. The ending was superb, bringing all the varied pieces of the puzzle—and don't kid yourself, there were plenty of pieces to this puzzle—together to a satisfying conclusion that stayed true to the characters. This story has many plotlines, with wonderfully shocking turns as everything comes together for the reader.
The sexual and sensual scenes were incredibly hot and drove many parts of the story forward. Of all the things you should go into this Annabel Joseph novel expecting (beautifully executed characters, vivid scenes, smokin' sex, emotion-filled moments, etc.), BDSM isn't one of them. There is spanking and varied forms of dominance in this novel, but it's not a spanking novel per se. It's so much more than that or any other label that could be applied. And in true Annabel Joseph fashion, all of it is woven into the story through psychological and emotional journeys of the characters – absolutely fascinating to read.
The emotions run the spectrum throughout Lily Mine. Be prepared to laugh and cry while reading this story. I highly recommend Lily Mine by Annabel Joseph as an outstanding read."
Lily Mine, reviewed by Diana of Book of Secrets
Four out of five stars…
"Poor Lily was down on her luck. In the eyes of her father, she had disgraced the family and was cast out on her own. She was a gardener's apprentice by trade, and Lily had hopes of finding like work at a manor. Exhausted and broke, she makes her way to Lilyvale Manor. Thinking that it is a good sign this place shares her name, she knocks on the door hoping to find work.
Lord Ashbourne is stunned when his servant brings Lily into his parlor. She looks almost identical to his fiancee who ran away with her lover (right before they were to wed). To prevent a scandal, he comes up with a devious plan: Lily will play the part of his absent "wife" while they search for the real one.
To Lily, his proposal is a dream come true. She can experience all the perks of life as a highborn lady, and when she's no longer needed, James has promised to gift her a flower shop and greenhouse of her own. The plan seemed perfect, except James and Lily did not count on falling in love.
This book is labeled as BDSM erotica, however the BDSM is mild. A little light spanking and bondage is as far as they go. Still, this was a very hot book! James and Lily's kinky play blended nicely into the story. James was simply an alpha male-type wanting to dominate in the bedroom, and Lily very much enjoyed letting him take charge. It's nice to find dominance and submission stories without the "lifestyle" fuss. I thought it was cute when Lily would sneak away to read James' erotica collection when she thought he wasn't looking. And I loved the reason why Lily wanted to call James "sir" even after she was pretending to be his wife.
Lily Mine is a sweet and sexy Regency romance. I thought Lily was charming. She was smart, tough and very likable. She and James had wonderful chemistry. An English lord and a poor botanist who refused to deny their attraction despite being separated by class. I'm rather fond of the forbidden love storyline. And James? Let's just say that Prince Charming has arrived! Lily Mine was a captivating, well crafted story with a very nice surprise twist at the end. I would recommend this book to any fan of erotic historical romance."