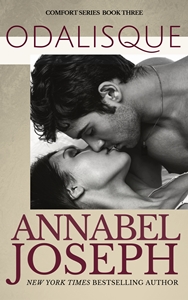 Comfort Series – Book 3
Kink level – Mild to Medium
Kai Chandler has it all. A thriving tech business, movie star friends, and a mansion in the Malibu hills. But he's lonely, nursing a broken heart and reeling from a shocking breach of trust. Then a friend tells him about a secret chateau outside Paris where they train women in the erotic traditions of the Code d'Odalisque. For a million a year, Kai can choose a sexual servant to use at will, a woman thoroughly trained in the pleasuring of men.
Kai makes the trip and, in the course of touring the facility, meets Constance, a shy and strangely quiet odalisque. He decides to acquire the beautiful woman and bring her to his home. Constance and Kai delight in their voyage of erotic exploration as he plays undisputed Master to her slave. But soon they find themselves forming an increasingly emotional connection, with the end of Constance's term of service looming over their heads. Jealousy, fear, regret and longing threaten to tear the lovers apart, and they must choose between the safety of the Code and the risk of true love and trust.
Publisher's Note: This book contains sexual content, graphic language, and situations that some readers may find objectionable: Anal play/intercourse, m/f/m menage, group sex, BDSM scenes, and swinging/partner swapping.
Odalisque, reviewed by Jae of Dark Divas Reviews.
Five divas and a recommended read!
"Wow. And … wow. Odalisque by Annabel Joseph wins my Best Book of 2011 vote hands down and without question.
I'm a huge fan of Annabel Joseph's writing, as some of you probably already know, but in this book Ms. Joseph has surpassed herself in quality of storyline, character development, character interaction, dialogue, narrative, sex scenes, emotional scenes, psychological development, world building… you name it and it is a stand out marker of a truly fantastic story. I may even have to buy this one in print!
This is the third book in her Comfort series. Each book stands on its own, but there are recurring characters, so you'll likely be enticed to read books one and two, Comfort Object and Caressa's Knees. But if you want to read this one first, I highly recommend going for it. I can't imagine anyone being disappointed in this story on any level.
The passion between the characters builds slowly as we get to know them. The scenes are brilliantly crafted so that I felt as if I were in the room voyeuristically watching all the goings on. When I love an author's scene setting (world building or whatever else you want to call it), when it feels incredibly lifelike, I have likened it to watching the events in Technicolor… I can't say that here because it's better than that; there is no pesky TV screen to get in my way of these scenes. I became a part of this story. I was there with the characters. I wasn't just watching; I was attending their parties as the proverbial fly on the wall. Thank goodness for a terrifically well-balanced and satisfying ending or I would truly miss interacting Kai and Constance.
I wish there was some way to give this story many more than a five diva rating; and a recommended read seems so inadequate to express the power of the writing I found within the pages of this story. But I've given it the best of the best, and I'll have to know that my review should convey my feelings about Odalisque."
Odalisque, reviewed by Victoria of TwoLips Reviews.
A five kisses review!
"I've felt this before, having experienced Ms. Joseph's other novels, but after enjoying Odalisque I must proclaim the following- Annabel Joseph is a true master of the BDSM genre and is an auto-buy author for me. Odalisque is a classic which will forever be loaded onto my e-reader and have a chained position on my shelf in print format. Ms. Joseph not only brings the scorching sexual heat one expects from a novel of this type, but packs so much emotional intensity into Odalisque, it's often painful to turn its pages. While this third book in her Comfort series is undoubtedly an emotional rollercoaster, you are riveted by these multi-dimensional characters and are compelled to keep on reading until the very end. I sincerely hope Ms. Joseph returns to this erotic society in the future with more tales of love and submission, especially with Mason's story who deserves to have a submissive of his own."
Odalisque, reviewed by Diana of The Forbidden Bookshelf
Story rating: Five out of Five!
"ODALISQUE is the third book in Annabel Joseph's Comfort series, and while this book can be read stand alone, I highly recommend reading the first two books, COMFORT OBJECT and CARESSA'S KNEES. In ODALISQUE, Ms. Joseph takes us deeper into the enticing world of her beautiful, talented and complex characters.
Kai Chandler is a rich and successful business owner, still smarting from an ugly divorce the year before. His pain goes much deeper than the millions of dollars his ex-wife took from him; she betrayed him in a way that can't be forgiven. At the suggestion of a close friend, Kai travels to France to a secret chateau that trains women to be odalisques, very willing sex slaves eager to fulfill any desire of the man who buys them. These women follow the strict Code d'Odalisque, which insists upon no emotional attachment to their masters. Kai is pleased with the prospect of a year full of no strings attached sex. The last thing he wants is another woman breaking his heart.
The woman Kai chooses is Constance, someone with a troubled past and her own emotional baggage to prove it. But she hides it well; Constance is devoted to her work as an odalisque, seeing it as a stepping stone to bigger and better dreams. While in service to Kai, she didn't expect it to be such a struggle not to form an emotional bond, and Kai feels the same way. But even if they did come to love each other, Constance is certain she doesn't belong in his world of high society. But Kai has other ideas, especially when one of his friends takes an interest in Constance.
What keeps me coming back to Annabel Joseph's books are her beautifully flawed characters and the intense emotional bond they form together, and ODALISQUE is no exception…
ODALISQUE is a sensual story but also wickedly kinky. I really enjoyed looking into the world of Ms. Joseph's odalisques, and whether these consenting sex slaves are purely fiction or not, I was somewhat surprised at what I learned. This book reunites many of the characters from the previous Comfort books and gives us a closer look at their lives and relationships. ODALISQUE is an engrossing, emotional tale, and I would highly recommend it to fans of BDSM erotic romance."