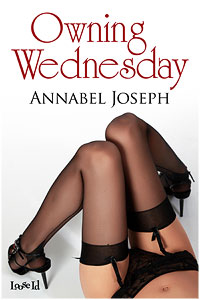 Kink level: Medium
Wednesday has been with Vincent, her dominant and former teacher, for five years. His detached ownership of her feels more like understanding than love, but she has thrilled under his hands all the same. When Vincent decides it's time to end their formalized relationship, Wednesday is lost and unsure if she even wants to continue in the BDSM lifestyle.
But another man watches from afar, determined to make her his own. This man demands much more from Wednesday than the uncomplicated obedience she offered Vincent. What's more, he shares a complex secret with Vincent, with Wednesday at its core. Can Wednesday bear the excruciating demands of intimacy with her new lover? What will happen when she discovers the secret they keep? Most importantly, who owns Wednesday, and what is the difference, ultimately, between being owned and loved?
This book contains explicit scenes of dominance and submission, discipline & training, bondage, oral & anal sex & double penetration, menage a trois, and both harsh and loving bdsm scenes.
Available on Amazon, Barnes and Noble, All Romance e-books, and Loose Id.com..
Owning Wednesday, reviewed by Jae of Dark Diva Reviews
Rated Five Delightful Divas!
What an amazing story, so filled with passion and intense emotion. Wednesday is taken on a rollercoaster ride of changes throughout this Owning Wednesday by Annabel Joseph, all set up at the hands of the dominants who love her, although I'm not sure they realized what they started at the beginning. The gentlemen are clearly changed as well as the story progresses, but Owning Wednesday is unmistakably about Wednesday finding herself and what she wants for her life.
The BDSM is intricate, intense, fresh, and always drives the emotional portions of the story forward. There is no scene in this story that doesn't add to the overall intensity and lead us toward the final HEA. That's what makes Owning Wednesday a page-turner from the very beginning.
Annabel Joseph's stories on the whole are based on the deep emotional needs or development of a character or characters. That, at least for me, is what draws readers back to her stories over and over again. They never fail to take you on a powerful journey through her character's lives. She takes you through their ups and downs and you have the privilege of watching as they find their balance in life. Her characters are rich and have a depth that brings them to life for the reader right from the start.
The BDSM is wonderfully visual in this Owning Wednesday and delightfully distinctive between the two dominants. You'll be amazed at the different feelings you'll have watching the dominant styles of Daniel and Vincent…and the emotional impact each has on Wednesday.
If this is a genre you enjoy reading, you won't want to miss out on Annabel Joseph's Owning Wednesday.
Owning Wednesday, reviewed by Rebecca of The Romance Reviews
A Top Pick!
"OWNING WEDNESDAY is another high quality book written in classic Annabel Joseph style. Focused on a committed relationship, albeit an intense BDSM one, the story brings depth to a simple erotic tale. The story was real and engaging with an edge of tension that kept me flipping the pages quickly.
Wednesday was with Vincent, her Dom, for nearly eight years. He viewed her more as a possession and their relationship was one of teacher to student, Dominant to submissive with a deep understanding but no love. When Vincent decides it's time to end their relationship, he finds someone whom he believes to be a perfect Dom for Wednesday. After one (very hot and steamy) encounter, the reader senses Vincent may be right. Daniel demands so much more from Wednesday than the simple obedience given to Vincent – Daniel wants a true relationship – and Wednesday has to submit to her emotions to meet his demands.
It is this emotional battle that makes the book so fantastic. Wednesday is a woman who struggles with accepting and giving love so when Daniel demands that she allow him to love her, she fights the feelings to her core. The tension derived from Daniel and Wednesday's budding relationship is realistic and well-written. Allowing Wednesday to have a different style relationship with each man, choosing to submit and obey and still hold onto a piece of herself, created a realistic character. Wednesday was a strong submissive and a strong heroine whom I very much liked.
Annabel Joseph is on my short list of favorite BDSM authors. She does an excellent job of capturing the lifestyle while bringing forward powerful love stories. Excellent emotional read."
Owning Wednesday, reviewed by Violet of Whipped Cream Reviews
Five Cherries and nominated for Book of the Week!
"Owning Wednesday explores a dark, sensual power exchange between the dominant Daniel and submissive Wednesday. It studies the difference between owning and loving a person.
Daniel meets Wednesday when her previous dominant Vincent invites him to a threesome. Eventually Vincent ends his relationship with Wednesday, in effect giving her to Daniel. Whereas Vincent was just a master, Daniel wants a relationship and future with Wednesday. Daniel is a fascinating character. He's a strong dominant, but he also wants a true open and loving relationship with Wednesday. He moves carefully with Wednesday to ensure she's moving with him.
Wednesday is just as intriguing as Daniel. Wednesday is emotionally damaged by her childhood. She doesn't believe she deserves to be loved. She's scared that the more she loves someone, the more likely they are to leave her. As much as she longs to commit to Daniel, her self-protection instincts are strong. Trusting in a happy future with Daniel is the greatest risk Wednesday will take. Watching Wednesday grow into a happy person is wonderful to watch.
Daniel and Wednesday's sexual relationship is just sizzling. Owning Wednesday is a true romantic BDSM relationship. It has a dark, gothic feel. This is not a light, fun exploration of BDSM. Nor is it a book, where one of the characters is learning to be a submissive or Dominant. This is a book for people who want a darker edge. It delves into the psychology of power exchange between Daniel and Wednesday, and how that plays into a long and lasting relationship.
…Ms. Joseph's Owning Wednesday has everything I look for in a book: a strong story, intriguing characters who grow, a voice that draws you in, and hot, absorbing sex. It's a darkly sensual BDSM romance. Yet as much as I say it's dark, there's something truly beautiful in watching Daniel and Wednesday build a life together. It's a breathtaking read!"