YAY! Hope you're ready for some old-timey starchy, sexy, Regency-era romantic spanking!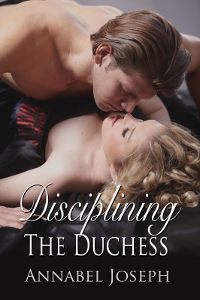 Over five seasons, Miss Harmony Barrett has managed to repel every gentleman of consequence and engineer a debacle at Almack's so horrifying that her waltzing privileges are revoked. If she's not in the library reading about Mongol hordes, she's embarrassing her family or getting involved in impulsive scrapes.
Enter the Duke of Courtland, a man known for his love of duty and decorum. Through a vexing series of events, he finds himself shackled to Miss Barrett in matrimony. But all is not lost. The duke harbors a not-so-secret affinity for spanking and discipline…and his new wife is ever in need of it. Will the mismatched couple find their way to marital happiness? Or will the duke be forever Disciplining the Duchess?
Disciplining the Duchess is now available at Amazon, BarnesandNoble.com, Smashwords, All Romance Ebooks, and other ebook sites. If you click the highlighted words they'll take you right to the purchase page.
The book is also available in paperback at Amazon.com.
If you read it and like it, I hope you'll consider leaving a review for me at Amazon, Goodreads, or wherever you purchased the book! Your word of mouth is what helps me continue writing and I'm so grateful for all your support.
Thanks for your patience while I got this book ready to go. The next book will be back to contemporary BDSM, and the world of ballet. Watch for Waking Kiss hopefully sometime in early summer!