Well, now that I have woken up from my 12 hour recuperation slumber, I have to tell everyone about my KallypsoCon adventures. Let me start by saying this: if you ever, EVER have the opportunity to go to a future KallypsoCon, then GO GO GO. If you don't go, I will lose all respect for you and think you are slightly crazy. Just saying.
This was a conference set up to be a casual hang out between a small number of authors and a small number of readers. There were 7 authors and probably under 100 attendees counting authors and readers together. Even better, all of us authors (Red Phoenix, Kennedy Layne, Cherise Sinclair, Kallypso Masters, me, Lexi Blake/Sophie Oak, and Eliza Gayle) have books in the BDSM genre. So everyone who was there was into BDSM and had read a great many of us. See how that works? There were so many squees, so many hugs, so much communal love. I can't even describe it. But I'm gonna try.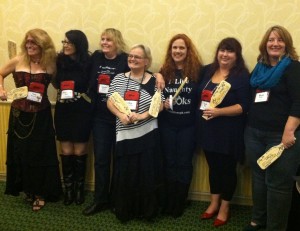 So it all started with a flight across the country with my wonderful friends Linzy and Jamie. We were in what I am going to call the "disco plane." After we disembarked in Seattle it was due to fly on to Hong Kong, so this plane was tricked out. There were electrical outlets & phone charges on every seat, plus a video-on-demand display with hundreds of shows to watch and games to play. We were like omg omg omg. Then we proceeded to talk the whole time and not use any of it, but it was a swag plane, and all the flight attendants were fabulous. I know you're like, "why doesn't she just start talking about KallypsoCon?" But the plane was just that cool.
So, moving on from the plane, we arrived in Seattle in early afternoon and it was just as dreary and awesome as we expected. We drove up to Everett with a wonderful lady named Annalise. We may or may not have stopped at a Mexican restaurant on the way and gorged on quesadillas and chips. Finally, we checked into the hotel which was the perfect size for a small con, and the fun began.
Now, let me say that I have very few pictures to share with you. I was just so busy talking and meeting people and doing stuff that I hardly took any pictures! I didn't realize it until it was time to leave and it was too late. But it just goes to show what a fun, hands-on conference this was. So, we had dinner and I greeted some of the readers I knew from online. Paula, Melanie, Jess, Erryn, Krista, my Lulu reader who I am blanking on right now, although I remember her beautiful smile and hair, and more people I'm probably forgetting, and of course my super Facebook pimp ERICA who fielded all my boxes and is the most engaging, warm lady ever. You can see her here clutching Cherise's kinky bear. Yes, that is a sperm squeezie at the end of Erica's braid. Don't ask.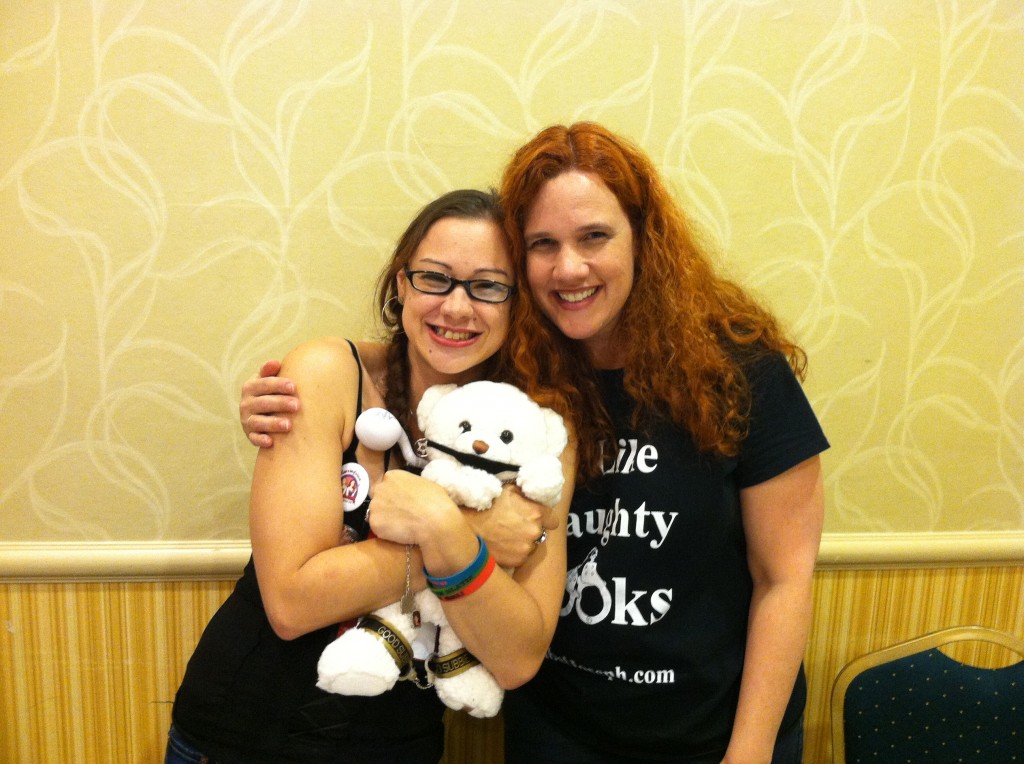 In addition to greeting so many wonderful readers, I got to see all the authors and give them hugs. Some of them I've seen a bunch of times, and some I've never met (LEXI BLAKE! OMG, I FANGIRLED!) Chloe Vale was there too, who has been so encouraging to me, and many other authors I am blanking on right now. The atmosphere was so supportive and fun.
After our dinner, Red Phoenix gave a talk/slideshow/show & tell on her playroom items at home and it was amazing. Some of the toys were super creative…like those panties…can't even describe… Let's just say I envy this couple's kinky ingenuity. 😀 Red had also set up a BINGO game with author baskets, and sexy prizes from Hips and Curves, which is an awesome and reasonably priced online lingerie shop for women of all shapes and sizes. But this wasn't your average bingo! Instead of bingo numbers, attendees got to write their favorite characters on their bingo cards and then we drew the characters and read descriptions of them until people got five in a row.
Okay, listen. There is nothing funnier than watching blissed out, rather drunk authors read descriptions of each other's characters, because we all REEEEALLY got into it. The more I read, the more I listened, the more books I wanted to one-click! That Red Phoenix is a smart gal, setting this up. 😀 In between drawing names, we had some impromptu Sasquatch Porn freestyling by the inimitable Lexi Blake. I really can't describe the wonder of it. I will only say that this alone was worth the cost of a ticket to KallypsoCon and Lexi Blake is the dirtiest and silliest woman in the world.
We finished Friday upstairs in the author suite playing Cards Against Humanity (thanks Melanie!) until 12 in the morning (which was like 3 in the morning since I was on Eastern standard time) but I didn't even care because everyone was awesome and we had an amazing time. There was homemade Kahlua. It frightened me because it was so alcoholic and good. Also, cookies. Thanks to attendee Alissa for posting this pic, which I then swiped from Facebook. Heh heh.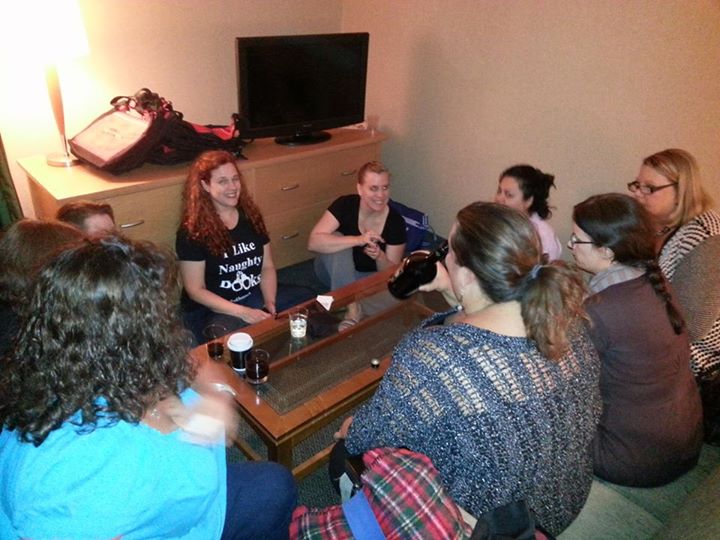 Day two dawned in true Seattle fashion. Gloomy and overcast. I liked it because it made me think of Twilight. Yes, those vampires never would have sparkled! But in our hotel of loveliness everyone was bright and happy. We started with unlimited amounts of bacon at breakfast, and then an author panel where readers asked questions and we went down the line and answered. I swiped this pic from Red Phoenix on Facebook. Thanks Red!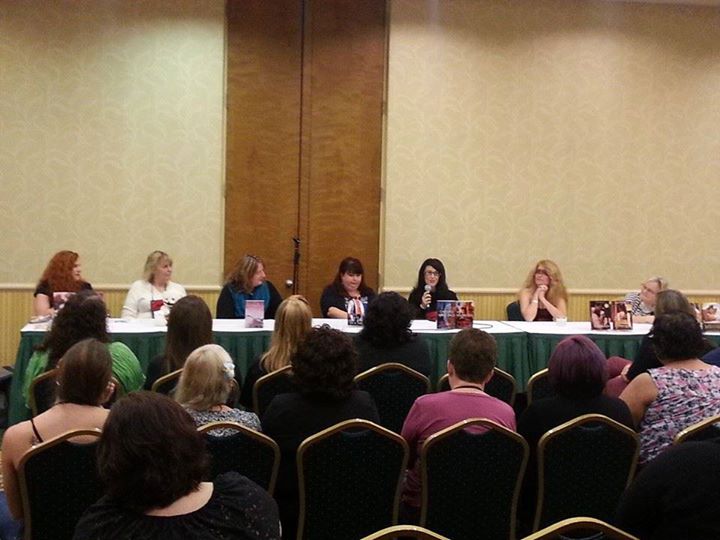 I learned a lot about my fellow authors and all the questions were great! There may also have been more Sasquatch porn and also threats, er, promises of Dino porn readings to come.
After a little break we started setting up for the book signing. PEOPLE, each author had a whole table to themselves!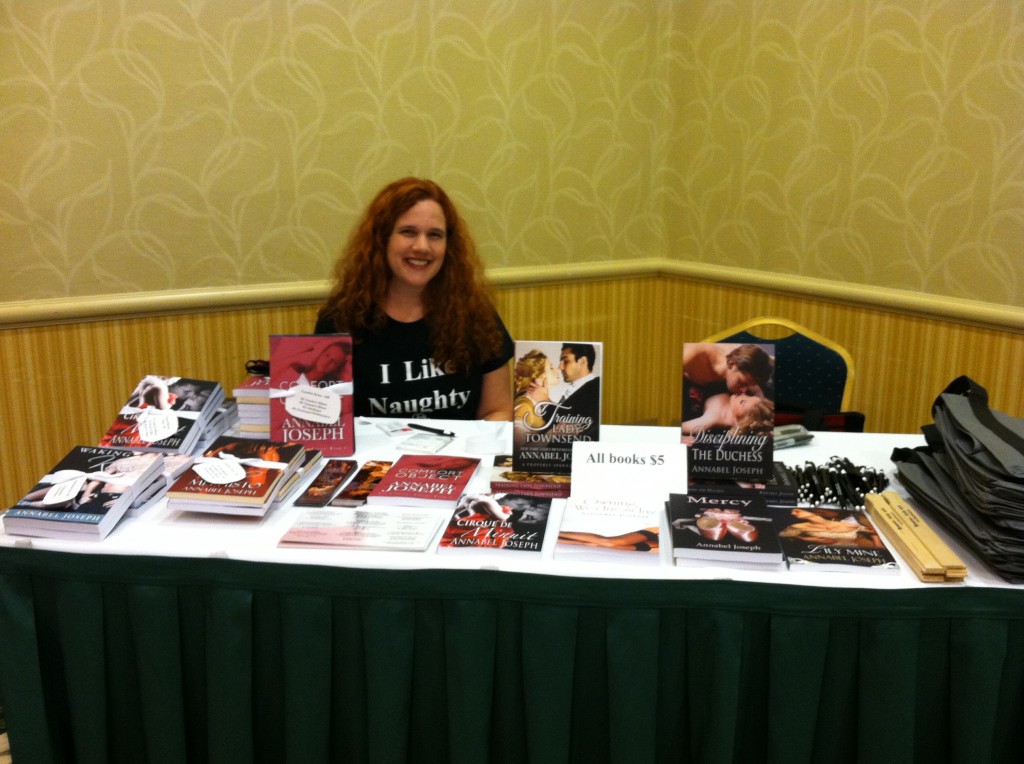 When you're used to 1.5 feet of cubic space at most cons, to get a whole table was kind of mind blowing. I wanted to dance around on top of it or install a stripper pole or something. It was so exciting. Before long all the readers swarmed in and their support was so heart warming. Everyone visited the table and everyone wanted to try some of my stuff. And of course I was all like, I have this new book out! It's called Training Lady Townsend! Book two in the series is out this month!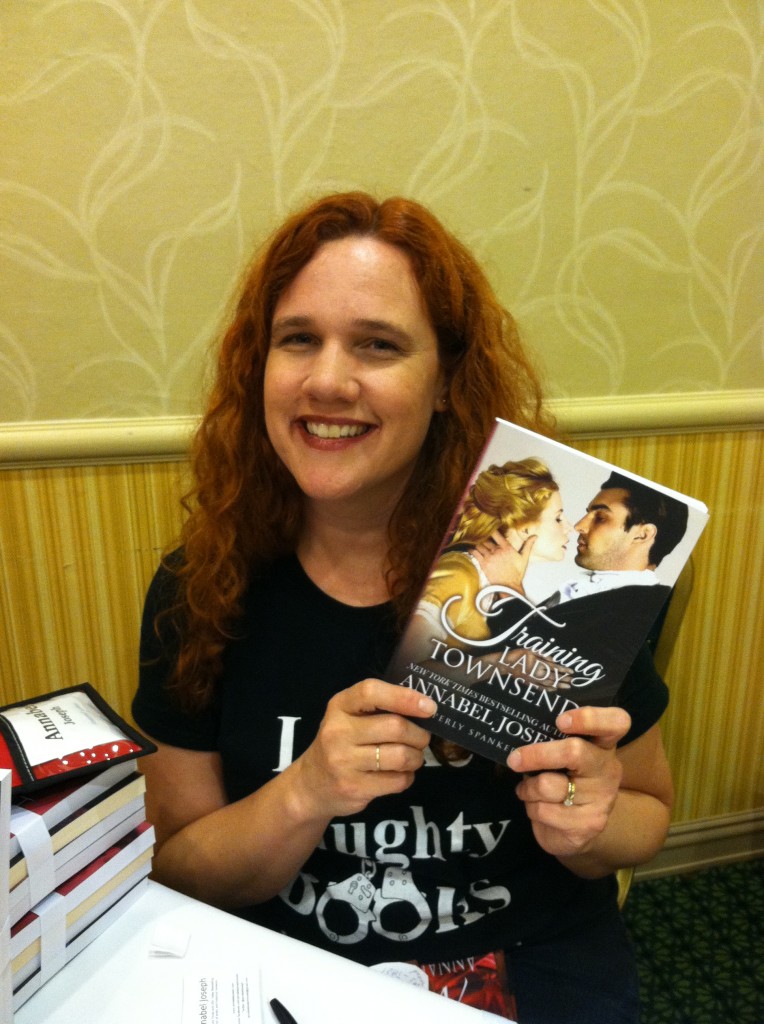 Yeah, all of those sold out. Actually, ALL my books sold out within an hour which was exciting, but also kind of sad for those who didn't get to me in the first hour. But everyone was cool about it and I promised to do some special ordering for people, which I don't mind at all.
Toward the end of the book signing, an amazing reader came by our tables and passed out KallypsoCon embossed paddles for all of us. I was soooo excited about this! Not only because I love being paddled, but because there's a bunch of paddling going on with Minette and Lord August right now in my work in progress, so I really loved receiving this paddle and also talking with the reader, she was really cool! Here's a picture of me getting whacked with the paddle by Cherise Sinclair. As you can see, it felt really good. Really good. Like, I kinda wanted to kiss Cherise on the lips afterward. *blush*
After the book signing we all just sat around chatting, and it was the most amazing feeling, to be sitting and chatting with authors I have always admired and frankly idolized. (Cherise Sinclair spanked me. And talked to me. OMG.) So it was that kind of weekend, with authors and readers who were friendly and generous as hell. After a delicious dinner, there was a BDSM demo that…well…didn't go exactly as planned. Okay, it happens. I'm not going to go into detail, but in the end, we all made the best of things and we all have a new view of garage sales now. (ack.) Also, my pretty friend Jamie got shibari'd and made everyone laugh asking for "bigger knots." Also, Lexi Blake and dino porn. It was absolutely a wonderful night.
Sunday morning rolled around and I was dragged, kicking and screaming, from KallypsoCon so I could catch my flight home. I was hugged about a billion times and I'm so grateful for everyone who attended this special event. I'm also so grateful to Kallypso Masters for planning this and inviting me, and for being the classiest, warmest, and most generous lady in all of Romancelandia. Also the strongest, for showing up so soon after major surgery. Love that gal.
Now, back to real life again, and writing more books for the wonderful readers who showed up to support and encourage all of us! Hope there are many more KallypsoCons!