Oh my goodness, where to begin with the fun and happiness? I was at Authors After Dark in Charlotte last week, and I have to say the most joyful part was getting to meet so many readers, especially the ones I talk to online. There were books, there was chocolate, there were dirty games and visits from security. In other words, a perfect trip. Many thanks to everyone who shared pics with me, since I'm using a lot of them in my posts!
I arrived on Wednesday and attended the Welcome Event where they gave away a bajillion prizes. I was so excited to finally meet Kennedy Layne in person, and then Kallypso Masters came over to hug me and I was officially beaming. As you know, the three of us will be appearing at KallyspoCon in Everett, WA in October, along with Lexi Blake, Eliza Gayle, Red Phoenix, and Cherise Sinclair. If you haven't got a ticket yet, it's sure to be the BDSM reader party of the year.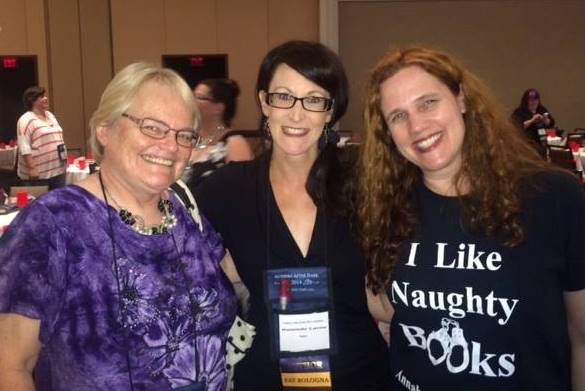 Then it was off to Joey W. Hill and Sasha White's Trivia Hour. And look, they were wearing my "I Like Naughty Books" shirts! I love them. The Trivia Hour was a howl, with all kinds of crazy questions about sex, romance, and Joey and Sasha's books. Some things I learned: the human clitoris is four inches long (not all of it external) and "cupcake" is not a word for female pubic hair.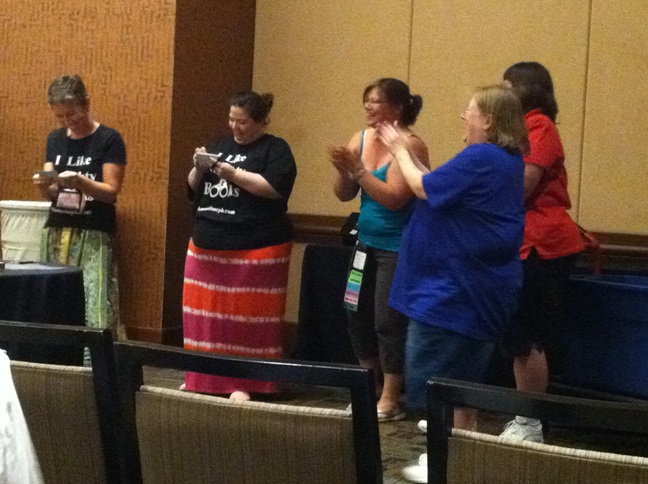 Afterwards I got to hang out with these lovely ladies, and share some laughs. We posed for a picture…don't we look like triplets in our matching shirts? 😛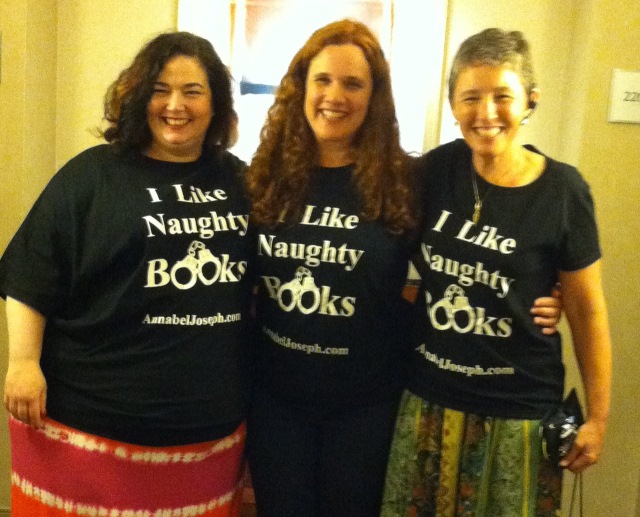 Later that night, I hung out with some of my wonderful friends, Laura, Yolanda, Marcia, and my pals from Atlanta. We stayed up way late and so I was a little groggy for my panels the next day, but they were still fun. Here I am on the BDSM panel with fellow authors Desiree Holt , Cecilia Tan, Lea Griffith, Sidney Bristol, and Kallypso Masters. So many great questions and discussions. See my contemplative expression? Or maybe just tired expression. HAHAHA.

I was so happy to FINALLY meet Desiree Holt, and she says she's one of my readers too, and that Deep in the Woods is her favorite book of mine! She also wore my shirt at the Con and man oh man, talk about feeling flattered, because, you know, DESIREE HOLT!
Later I was on an Anti-hero panel, sitting next to Julie Morgan. Oh man, after hearing about the anti-heroes in her books, I'm going to put her Chronicles of the Fallen series on my reading list! Plus Julie was just a riot and really fun and nice.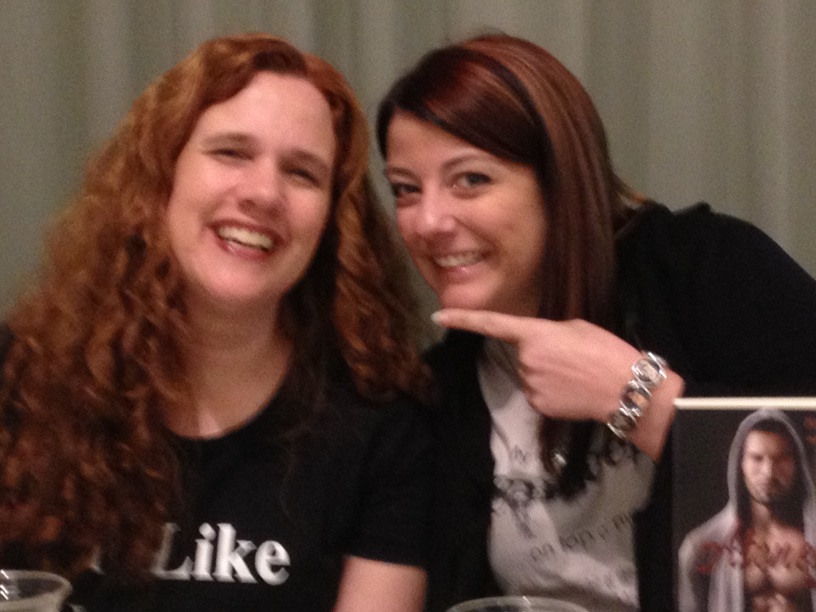 I was super excited about the Historical panel, since my next few releases are going to be spanking historicals, and since so many great authors were on the panel with me. Terry Spear, Hildie McQueen, Jess Michaels, Jenn LeBlanc, and Kerry Adrienne. Terry and Hildie write Medieval stuff, me, Jess, and Jenn write Regency and Victorian, and Kerry does more in the area of ancient civilizations. So it was a great mix!
Here I am babbling on about how dreamy it is when Regency gentlemen spank naughty ladies, while Jenn LeBlanc (on the right) looks on like, what a whore! HAHAHA. Just kidding. Jenn was awesome and also my "Chastity sister" at the Sins and Virtues Ball, which I'll talk about in a bit.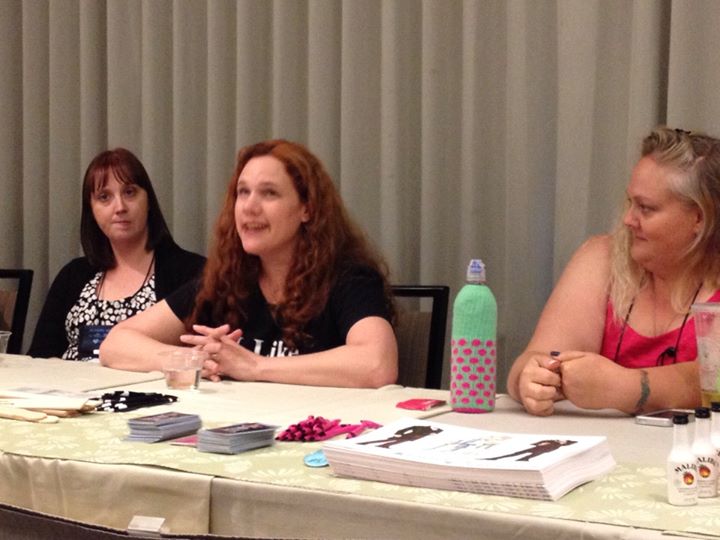 So, aside from panels, I also took part in a BDSM meet n greet with nine other authors. We chatted with small groups of readers, gave out door prizes, and also a big grand prize. I passed out cards with all my books and series order on it, and hopefully I'll gain some new readers. But even if I don't, it was an amazing experience!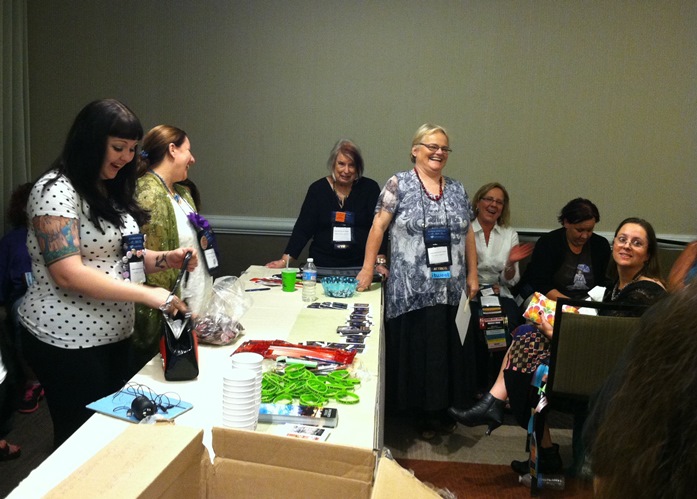 Kally gave away her last rigged kitty or whatever it was…the tiger all done up in bondage. HAHAHA.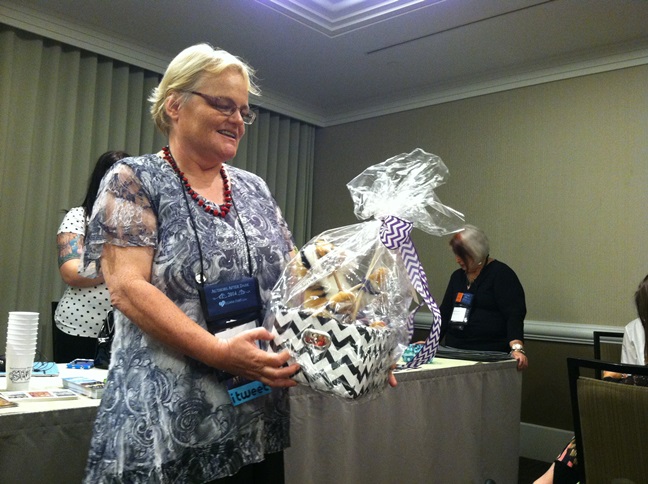 Here's a photo of all of us. I'll link the authors I haven't linked yet in this post. Bottom row: Colette Saucier (and her service pooch), Desiree Holt, and Sidney Bristol.
Top row: Kallypso Masters, Cecilia Tan, Tilly Greene, Sasha White, Ann Mayburn, and ME. Not pictured: TJ Michaels.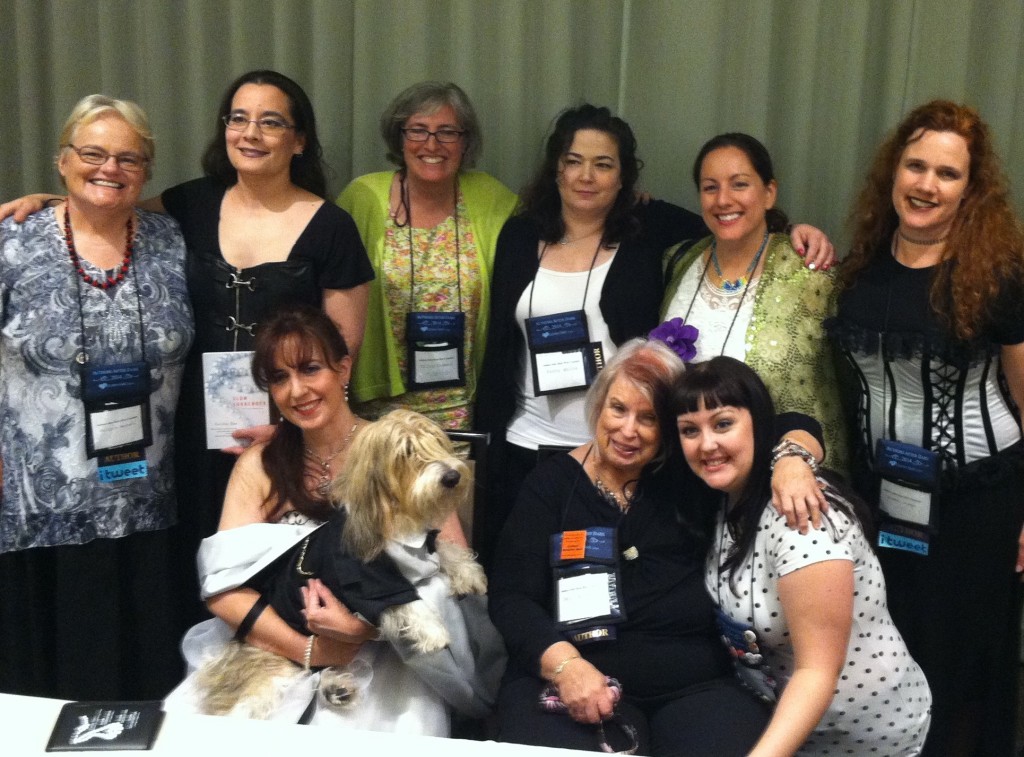 Okay, this post is getting super long so I'll pause here and continue Authors After Dark 2014: Part 2 in the next post!