So, Friday was a really great day. First of all, I got to meet Mama Vi of the Carter Johnson Leather Library. This lovely woman has made it her life's work to collect fetish books and media from all over the world and compile it into a historic library, which she then totes around to various locales so that people can enjoy them.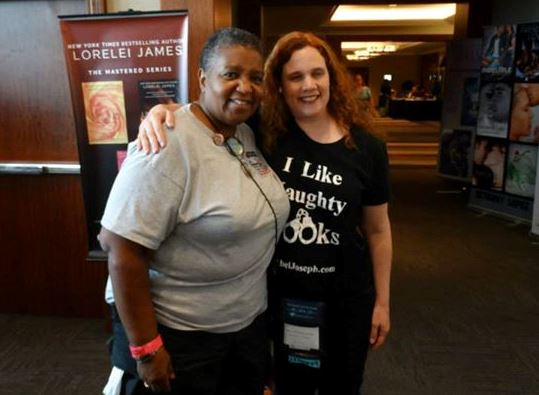 I was asking her about "The Pearl," the 1800's naughty magazine that I had read about online, and she said, "Annabel, I have two original copies of "The Pearl" right here in the library." OMG, I freaked out! She gave me white gloves so I got to touch it and everything. It was so exciting!! And later I used the white gloves for my Marie Antoinette costume so that was just a bonus. 😀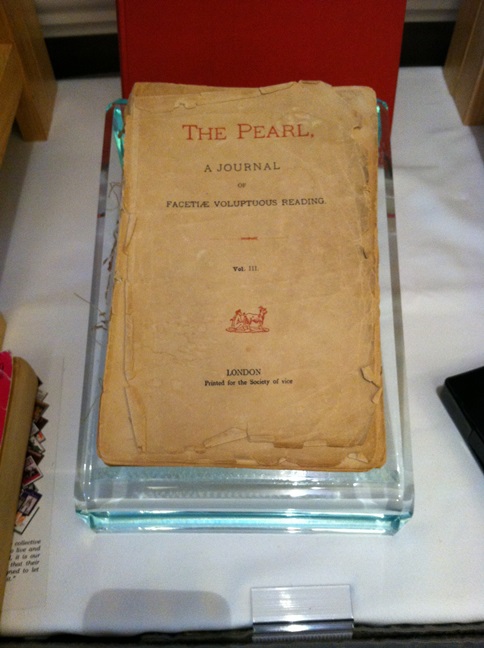 She was simply a great lady who took over an hour to show me just a fraction of all the amazing kink books and artifacts she has. If you would like to support her with a donation of books or money, or learn about upcoming visits, you can find more information at leatherlibrary.org.
After I visited with Mama Vi, I went to Games With Gooden, a carnival type event with lots of fun, naughty games. My favorite was created by my fellow BDSM author Candace Blevins–it involved tennis balls and making things, er, anatomically correct. HAHAHA!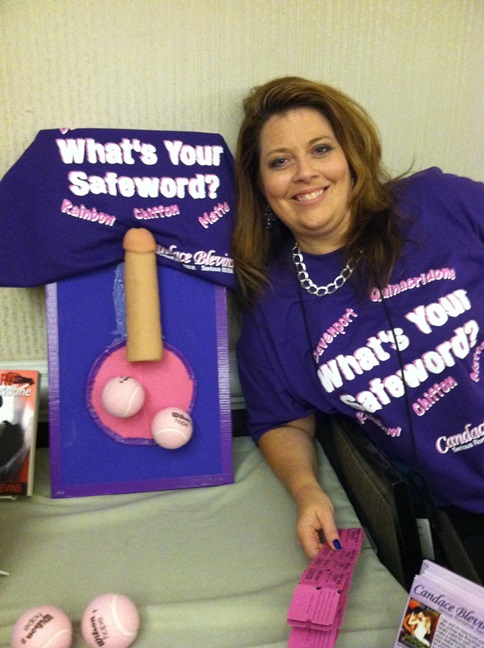 Friday night, I went with some readers to Red Ginger for Hibachi and man oh man, it was so good!! Both the food and the company. 😀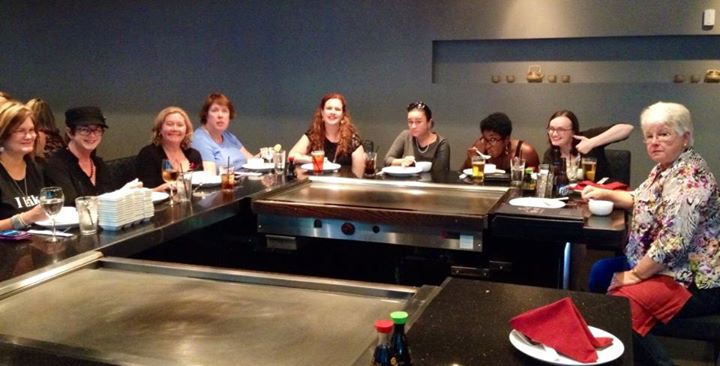 After that, it was time for the Leather and Lace party. My friend Laura was dressed to the nines, arm binders and all! I love these two pictures…she is so fun and I love her side eye in the second picture. HAHAHA.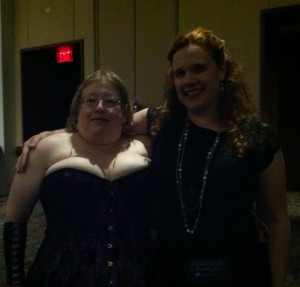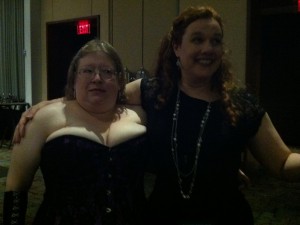 Then another friend pulled me over to where this male model Don Allen was hanging out. Oh man. He was nice but also…oh man. His body. We posed for about forty pictures, and we kept saying, oh, the light isn't right! It wasn't really right, but it was nice to stand next to him for that long. Heh heh.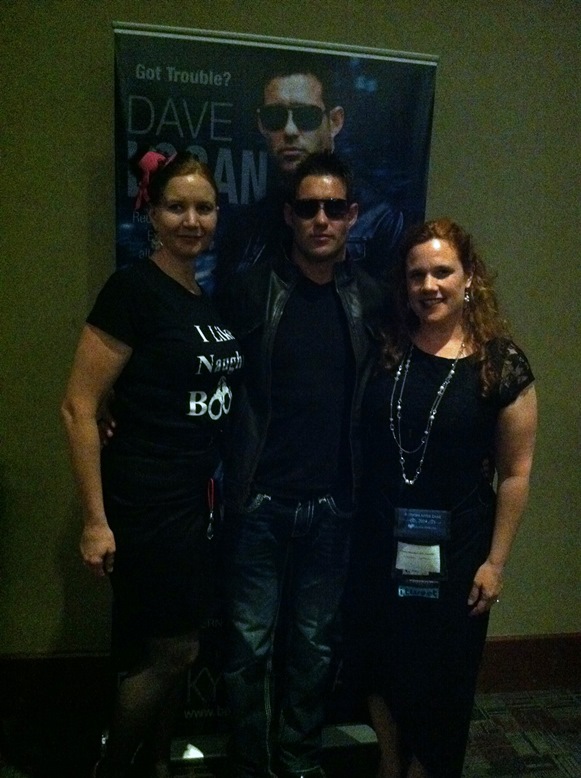 It's like, oh, hey, that's him!! HAHAHA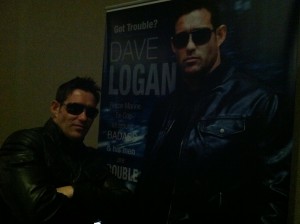 Almost every night after the parties or balls, I hung out upstairs with my wonderful readers, and my super awesome support group, Tasha L. Harrison, Elissa Stark (who also does indie cover design as Bad Star Media),  Laura Topaz, and Linzy Antoinette. And yes, we drank and acted a little silly. Security came once. I don't know why?? heh heh.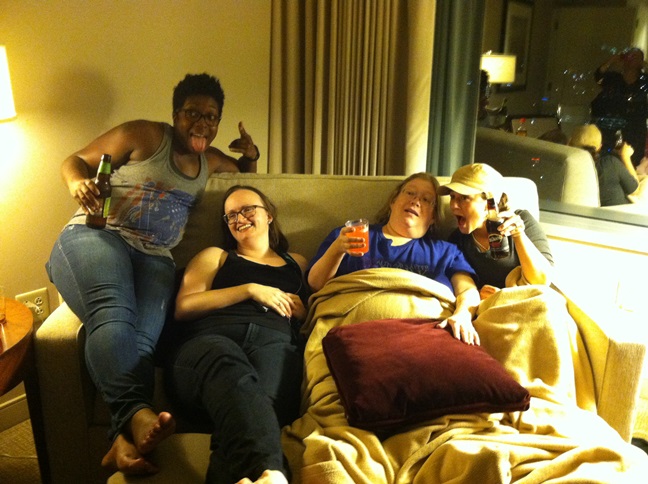 And of course, where would I be without my lovely picture maker Chhaya Delaine? Wearing my shirt, no less!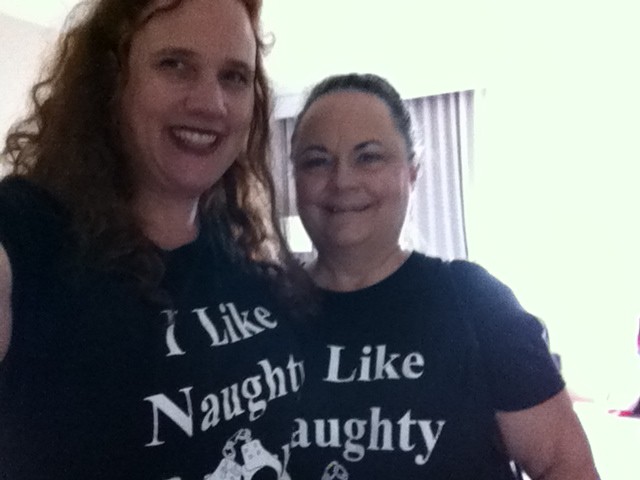 A few nights, we all played Cards Against Humanity. This resulted in some fact checking with the Bible. I believe it was Ezekiel 23:20? Don't look at it, it will scar you. Here are Elissa and Tasha with the impromptu scripture reading. I love my friends. That is all. I also understand that hotel security has a job to do, so we'll try not to be mad about that.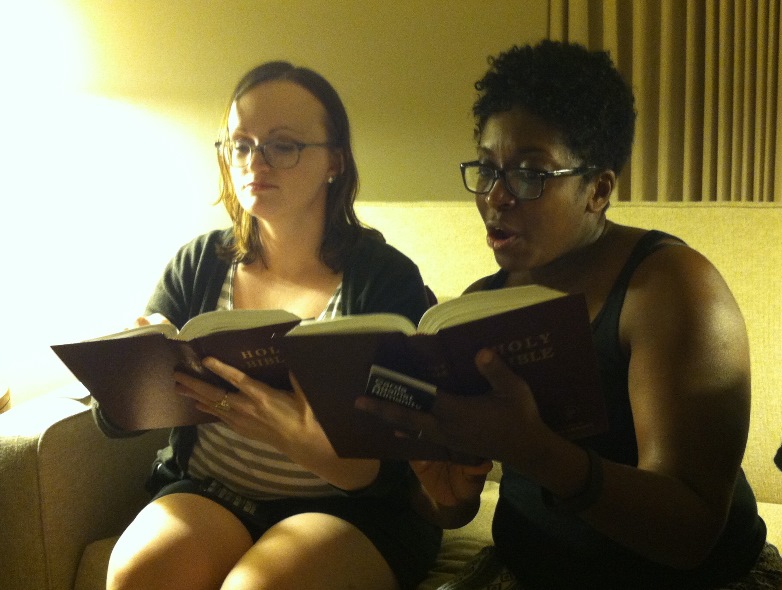 Saturday arrived and it was time for the big book signing. I talked to sooo many wonderful folks and sold boatloads of books. I tried this thing where I packaged all my series into these little "box sets" tied with ribbon, and they were gone the first half hour!! So I'll take more of those to my next book signing! My hands hurt by the end but it was the good kind of hurt.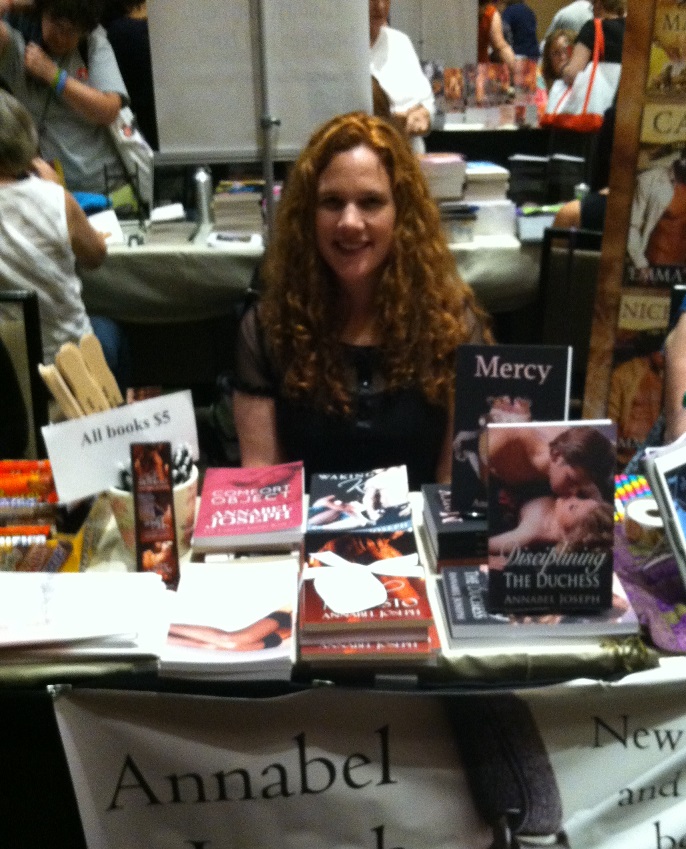 After that it was time for the SINS and VIRTUES BALL! I was one of the hosts of the CHASTITY section. Get it, chastity? Orgasm denial? haha. You guys may have already heard about our big pink penis centerpiece. I also got everyone at my table free books and some chocolate balls for their mouths. Because who doesn't want balls in their mouth??!!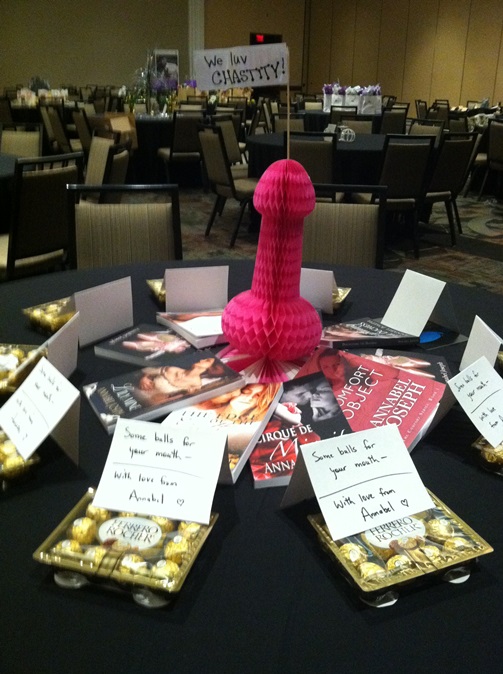 I bought an orgasmic Marie Antoinette dress on Ebay, because of course Marie Antoinette and Louis XVI didn't consummate their marriage for SEVEN YEARS. Talk about yer chastity. Plus pink flowery dresses are fun for me.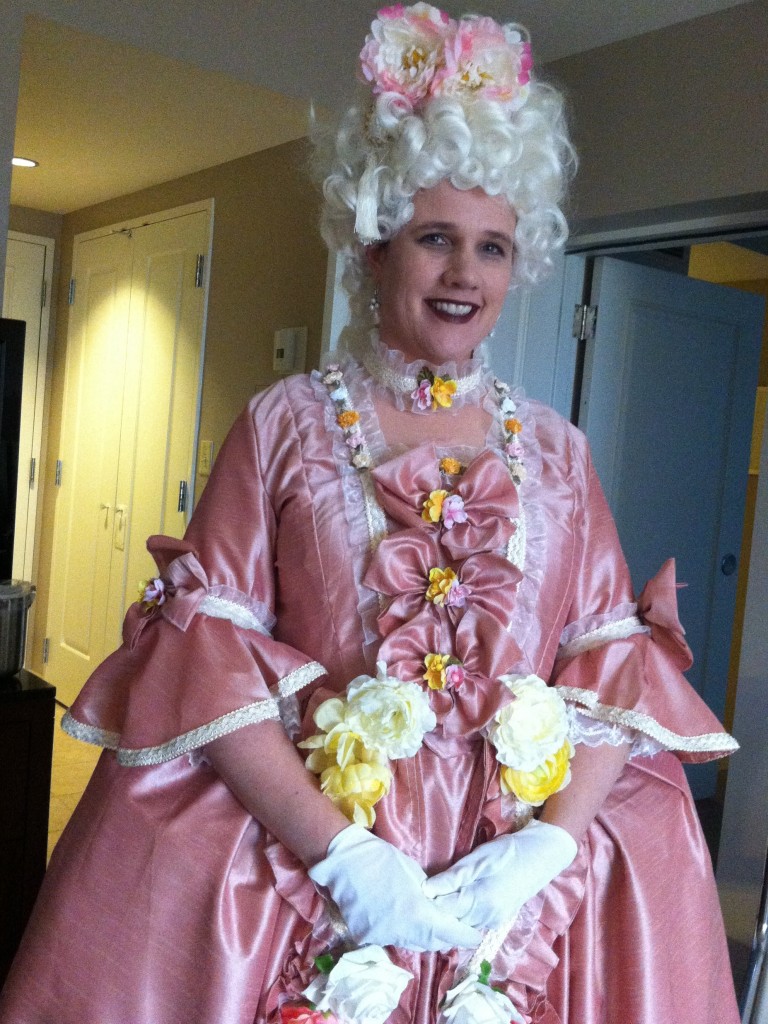 The folks at my table had all kinds of great costume ideas for chastity. Here we have two naughty nuns, Leigh and Jenni, and of course, THE CHURCH LADY, thanks to Rita. HAHAHA!
Here you can see my naughty friend Selina looking at James Deen porn on her phone (after we incited her of course.) As you can see, the Church Lady does not approve!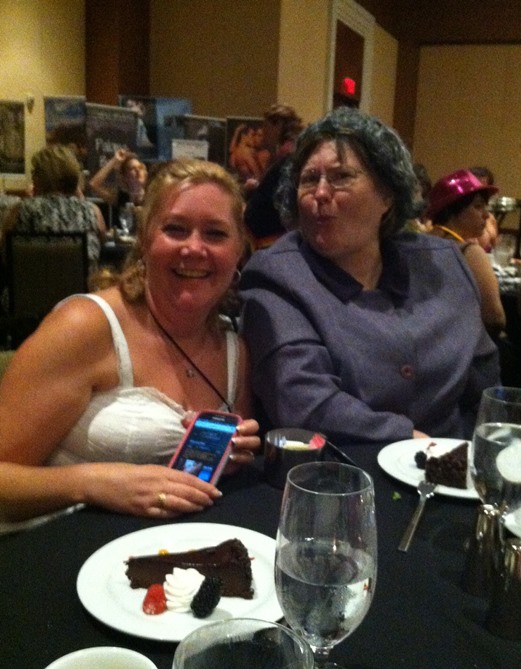 She didn't approve of this photo by Riane Holt either… Neither did my husband! Go figure!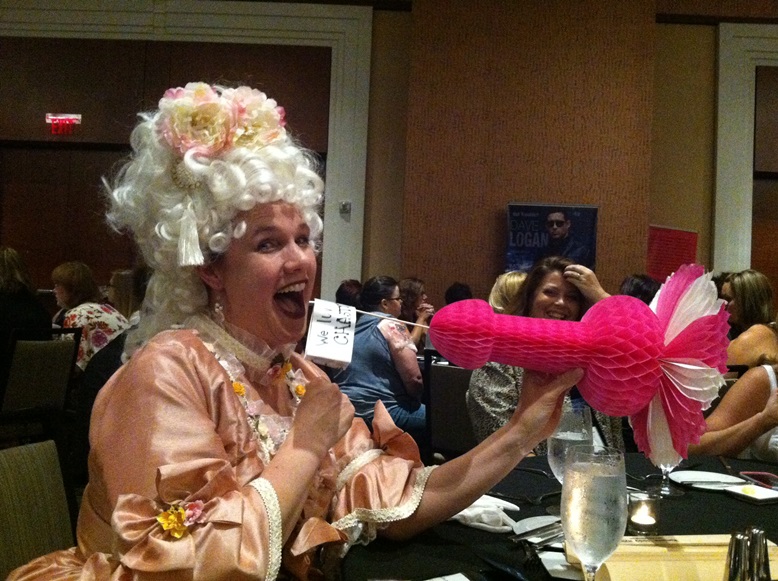 Here you can see all of us Chastity table degenerates together, including my Twitter buddy Michele Harvey, who tried to hide behind me like a little nymph. Jenni (one of the nuns) won an Amazon gift card for her costume, and Paloma Beck was the super lucky lady who got to take home the pink chastity penis. God willing, we will see it again. But somehow I doubt God is willing…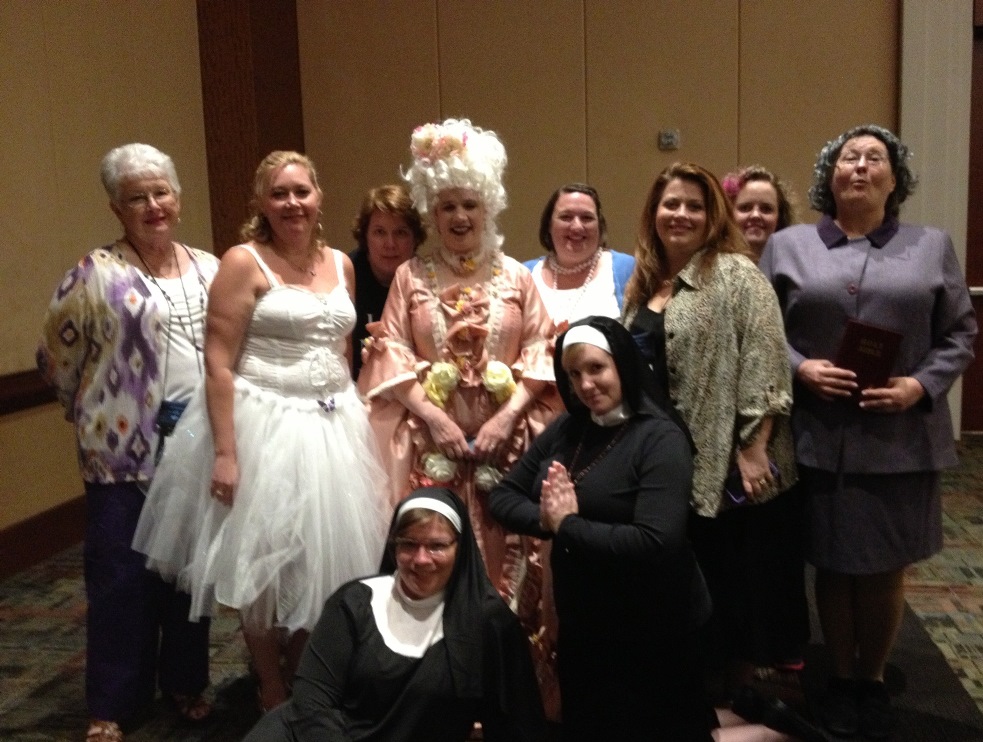 I got lots of other pictures of wonderful folks. Here's me and Cecilia Tan, who looked AMAZING.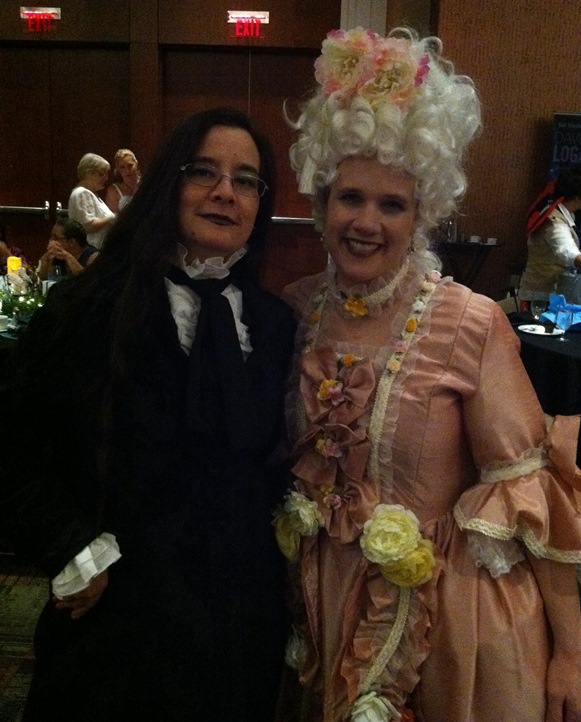 Me and Yvette Hines, one of my most lovely supporters and a historical romance nut, who also writes BDSM.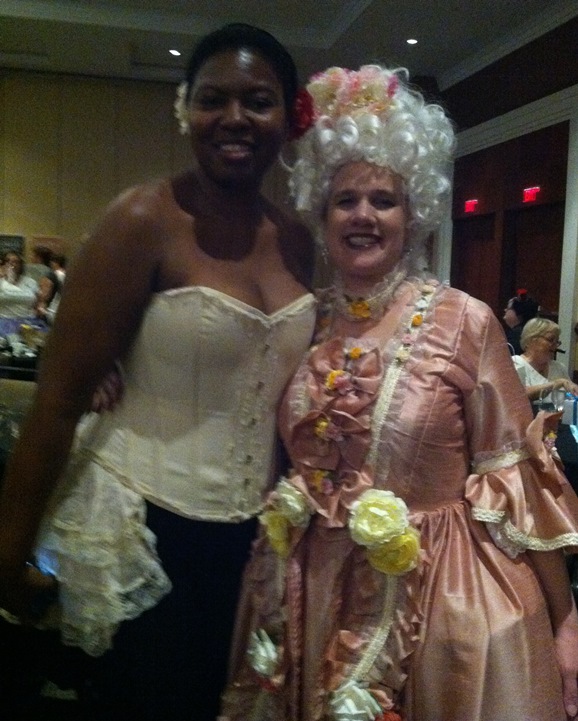 Here's me and Sasha White, who had on a rockin black and pink tutu!!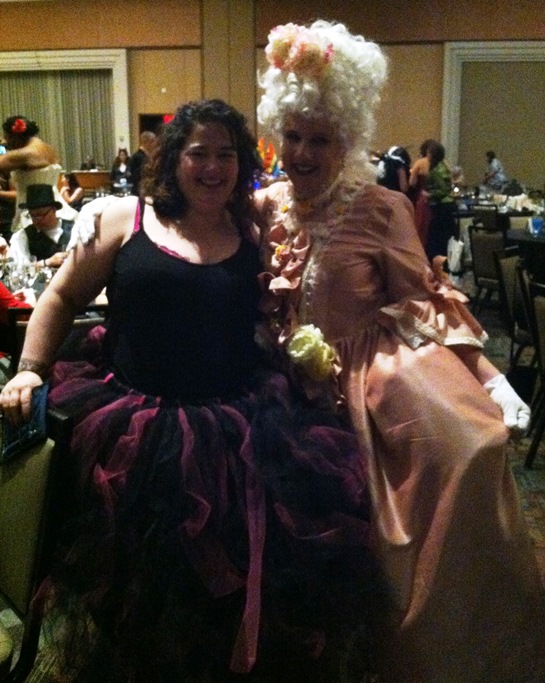 Here's me with Tilly Greene, Jenn LeBlanc, Yvette Hines, and some readers at the ball.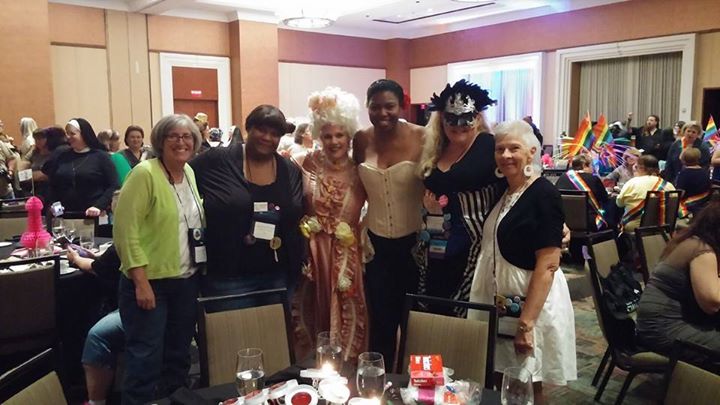 Here I am with my Atlanta pal Jenni and her mom Vicki, who I met for the first time at the conference. We ended up being great friends!! And I don't think it was only the dress!!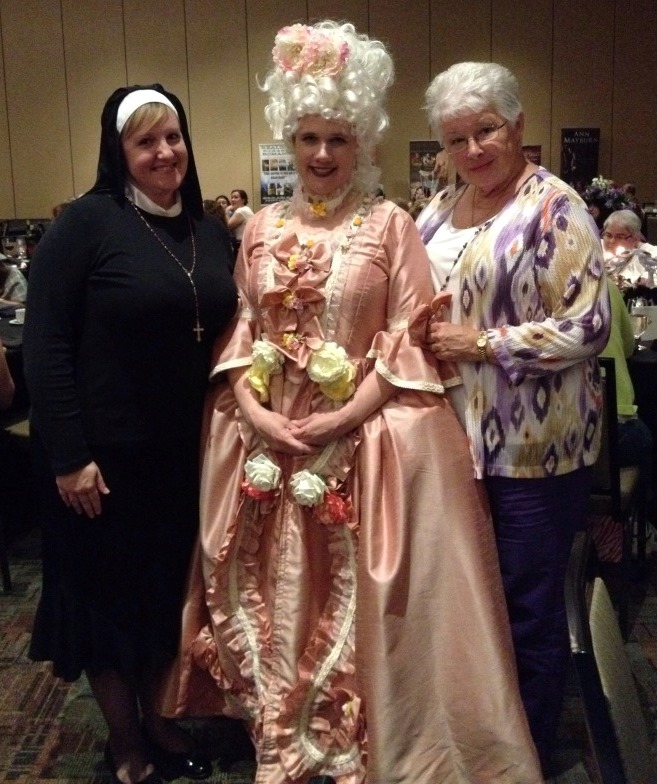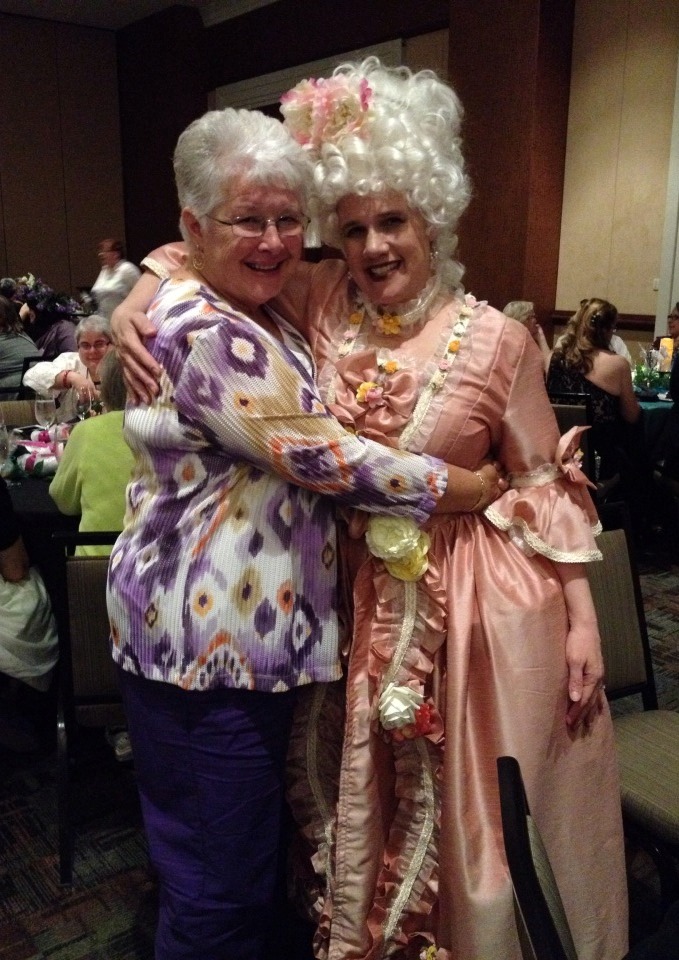 Then after the ball I was all like, y'all I gotta check my phone. And my friend Elissa thought this was very funny and so she took what is probably one of my favorite pics from the conference.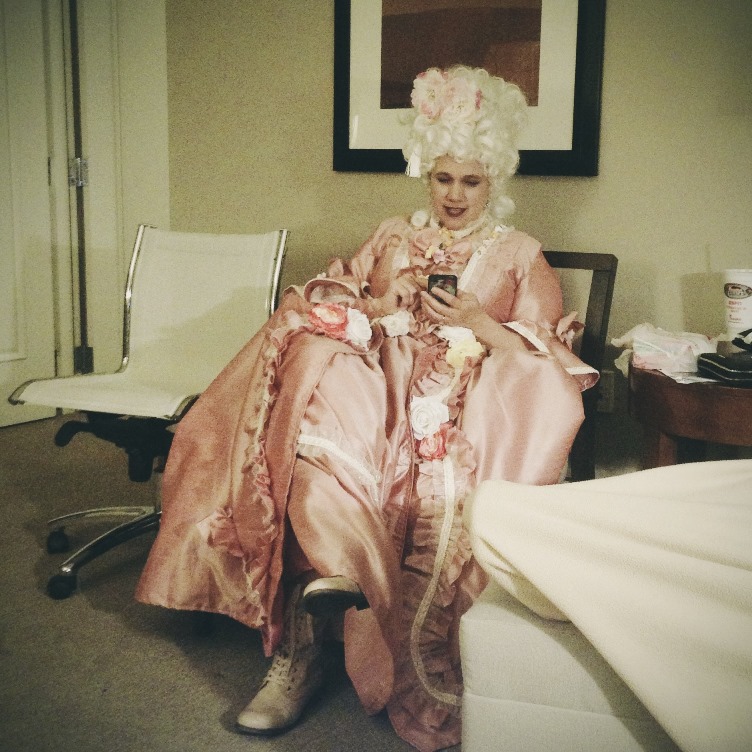 I was super tired, but oh man, what a fun time.
After that, there was only the basket giveaways to go. I hauled my butt out of bed on Sunday at 7:30am because I wanted to see who won my Lil Pink Basket O' Pain. As it turned out, it was my wonderful new friend Jamie, who put $50 worth of tickets into the drawing! YAYYY! I was so happy she won it and I wish her much fun with all the pink pervertables.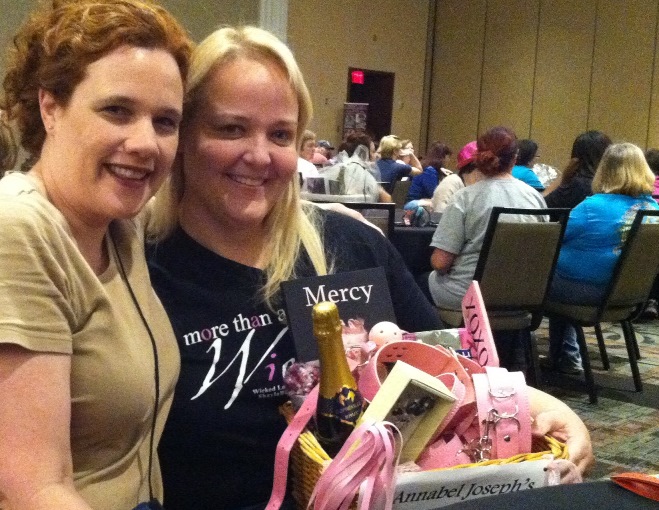 Then it was off to the Midnite Diner for some breakfast and the long drive home. Here are me and Candace Blevins, tired but happy.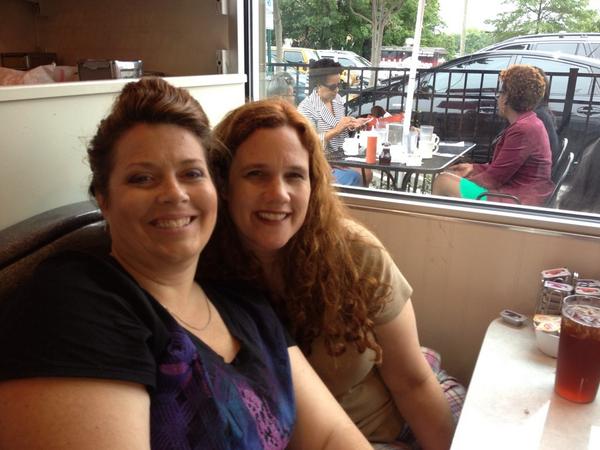 I have a million thanks for all the authors and reader who participated in AAD this year, and all those who couldn't be there but sent their good wishes. You all make everything worthwhile and if I didn't mention you here, don't think I didn't love meeting you. I'm just running out of picture space, lol.
As for next year, I will NOT be at AAD as a featured author in Atlanta. I know I told some folks that I would be a Featured Author but I decided to go as a regular old attendee so I could hang out in the trenches and have a more relaxed time. So if you're planning to go, we'll definitely hang out and go to stuff together, and I can still bring books if you want some signed books…I'll just be signing them in my hotel room instead of the book signing, lol. I'm sure it'll be a great con, especially with Sherrilyn Kenyon as Mistress of Ceremonies. So if you'll be there, let me know and we can hang out!
And that's pretty much it! Thanks for reading this incredibly long post!