Yay! It's Saturday Spankings time again, and I have a fun picture to share along with my eight sentences. If you follow me on Twitter or Facebook you've probably already seen this naughty lady enjoying my latest release, Training Lady Townsend.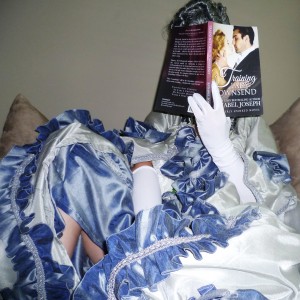 Tsk, tsk. She ought to be spanked for such abandoned behavior, but perhaps she couldn't help herself.  Perhaps she was reading this passage:
"Does this feel good?" he asked quietly. "Do you like this?"
She shook her head, but it wasn't much of a shake. It was a very weak denial.
"You mustn't lie, remember," he said, sliding a hand down to squeeze her still-heated arse. "If you lie, you'll have to learn your lesson all over again, and I'm sure you wouldn't like that. Answer me. Does this feel good?"
He stroked and teased her little button until she was practically dancing on her toes. "It feels g-good. Yes."
I'm going take next week off for KallypsoCon in Seattle, but the week after, I hope to share my first snippet from book two in the Properly Spanked series, To Tame A Countess.
Happy #SatSpanks day everyone! Be sure to visit the other great authors and blogs on the list below!