I know, I know, I never blog anymore. You know you can find me on Facebook. And Twitter. And Pinterest and Instagram and Tumblr even this author page on Facebook. AND OF COURSE YOU CAN SIGN UP FOR MY NEWSLETTER (recommended).
But when I go to a conference I really like to do a blog post and share some photos, so here we go.
I was so excited to attend Wicked Book Weekend in Ft. Lauderdale this weekend. It's a pretty intimate signing (just 50 authors) and everyone who attended was really, really into books. It's put on by Ana Ivies of Ana's Attic Book Blog. If you don't subscribe to her blog, you're missing out on a lot of book yumminess and excellent giveaways! It was so fun to meet Ana in person, she's so friendly and her event was so well organized. There was no yelling, shaming, OR browbeating. NONE. Sadly I have found this to rarely be the case, so I hope to go to more events that Ana organizes. Wicked Book Weekend for 2016 is up in the air, stay tuned.
I also got to meet Angie and Theresa of Shameless Book Club (formerly Smut Book Club). Believe me when I tell you how EXCITED I was to finally hug these ladies. SBC has been so supportive of me these last few years and I am eternally grateful. Theresa also volunteered to be my assistant. She is so wonderful. I love her forever. I can never give enough thanks.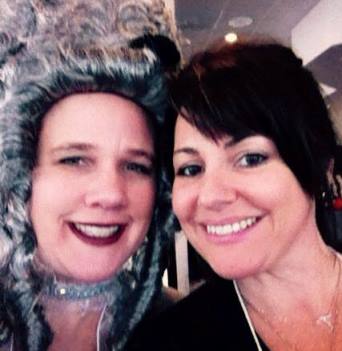 As you can see in the photos, I elected to dress in 1700's garb for the signing, since I've been writing historicals lately. Maybe because I didn't get enough attention as a child. Some people loved the costume, but some people gave me the side eye and hurried past my table. HAHA.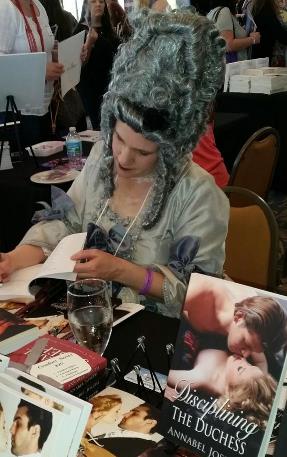 They randomly assigned readers to authors' tables for lunch, and I could tell my group was like, oh geez, we got that author who dressed up. But by the end we were all having a great time, friending each other on Facebook, and I know for a fact a couple of them are already reading my books! They were wonderful ladies with lots to share and fun was had by all. Even with the wig. So that was a high point for sure.
The signing was also really fun. I would say it was very New Adult heavy, but some of my readers still showed up and some brought books for me to sign. I freaked out and got all excited about that. I got to pose with Flat Brittany and her friend Jenn, who is beautiful even with her eyes closed.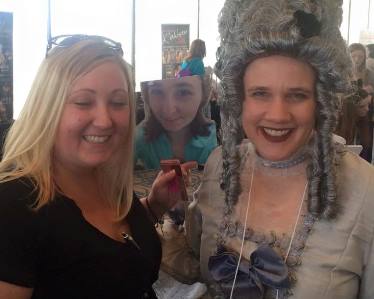 Then Bettina came by with a book to sign, and I was so happy, and she was so bubbly and wonderful, and I love her name and someday I'm gonna use it in a book.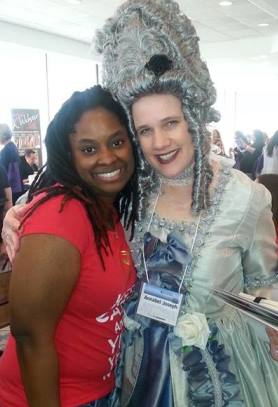 Bettina and I also hung out at the afterparty, since neither of us wanted to dance but we still loved the music. We dressed up and took photos in the photobooths and that was a riot. See a pattern with the dressing up thing??!!
I also had a blast meeting other authors. Chelle Bliss and I were hooked up and taking selfies before we even checked into the hotel. I love her!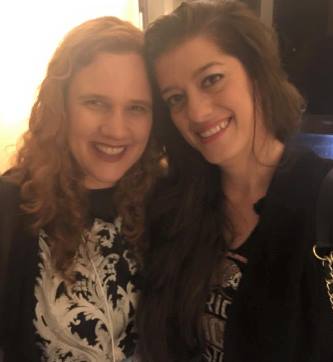 And at the signing I got to sit across from Pam Godwin, who is awesome and writes lovely dirty books. Even though it's a little blurry, this was our favorite picture because Chelle Bliss photobombed us.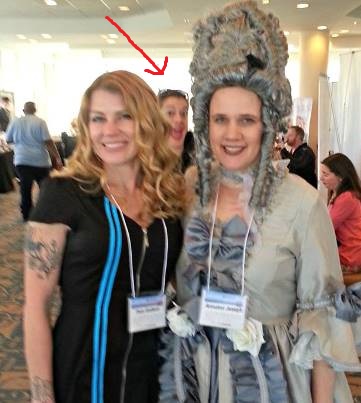 There's so much more to tell. There were wonderful parties, food, and silliness. I got to talk to Julie Richman about life in Austin, and M. Robinson did a book swap with me, and I roomed with Kim Karr, who I had never met before. We talked and talked and TALKED all night like best friends at sleepaway camp. It was mega fun.
So to sum up, I was very grateful to be invited and I'm grateful to everyone who made it a special weekend, including those I am omitting here (forgive me, so sleepy.)
I have two more events planned for this year. I'll be at Frolicon in Atlanta over Easter weekend (almost 95% sure of this.) I'll also be at Authors After Dark in Atlanta, with Mistress of Ceremonies Sherrilyn Kenyon. I'll be there as an attendee, not an author, and my plans are to hang out nonstop with my readers and enjoy the vibe.
So, thanks for reading my wrap up, and thanks again to Ana Ivies for inviting me to WBW, and for the awesome photo below, with all the authors. It was a wonderful time.